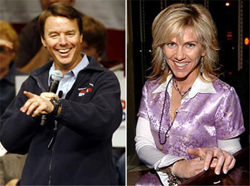 Put politics aside for a minute.
If you saw the interview that ABC's "Nightline" did with former Democratic presidential candidate John Edwards on Friday night, tell us how you think he did from a PR standpoint. If you missed the interview, you can watch it in two parts here and here.
I don't care if you think "he's only human" or that cheating on his wife was "despicable."
Was the interview convincing? Will it put an end to this story? Did his answers come across as honest? Was he justified in not answering certain questions about the affair with campaign staff member Rielle Hunter? ("Did you ever tell her that you loved her?") Does he score points for asking his wife, Elizabeth, not to be present during the interview?
Opinions from crisis counselors and other PR pros seem to be all over the map. Crisis counselor Jonathan Bernstein, who was my guest during a teleseminar a few years ago on "How to Keep the Media Wolves at Bay," says on his blog:
"I think John Edwards did one heck of a job of 'packaging' his confession of infidelity in a manner that will quickly put the issue behind him—as long as there are no other skeletons in the closet…"
PR guy Jerry Brown says he thinks Edward blew it.
"He left at least two big loose ends that promise to keep the story alive awhile longer:
"He offered to take a paternity test to prove Hunter's child isn't his, but the test hasn't taken place and the mother says there won't be one. That will keep the story alive awhile longer and, without a paternity test, there will always be lingering doubts. Out of Edwards' control? Perhaps. But he's had several months to work on this issue.
"Hunter reportedly has received payments for some period of time, up to $15,000 a month according to one report that claims the payments were hush money to keep her quiet. Edwards says he didn't make any payments to Hunter and that any payments that were made were without his knowledge. If she was paid, who made the payments and why promises to keep the story alive. If any laws were broken, the story could become decidedly worse."
Hounds, what do you think?
P. S. Notice when the story broke: on a Friday. Typically, that's the best day to break a bad news story. Did breaking the story on the same day of the Olympics ceremony work in his favor?