Publicity Hound Sheryl P. Kurland of Orlando, FL writes: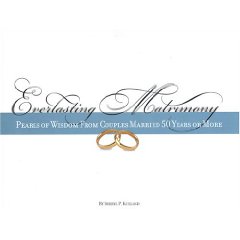 With Valentine's Day just around the corner, which is a logical tie-in to my product, I need some new, exciting, low-cost ideas prior to the holiday to stimulate Valentine's Day book sales.
I'm the author of the self-published Everlasting Matrimony: Pearls Of Wisdom From Couples Married 50 Years Or More, an elegant coffee-table book in which I interviewed 75 couples married 50+ years. The first run was published four years ago.
My background is Marketing/PR, so I've done just about everything—all on my own and on a shoestring budget!
Here's a brief rundown:
—In her 30 years as host of the nationally-syndicated Dr. Laura Radio Show, Dr. Laura (Schlesinger) has reviewed only one book twice—Everlasting Matrimony. In both 2006 and 2008, Dr. Laura chose my book as her Valentine's Day book selection.  (Book sales jumped to #2,021 on Amazon.com with the 2008 review two weeks before Valentine's Day.)
—One-on-one on-air radio interviews by Leeza Gibbons, Sally Jessy Raphael, Jack LaLanne, and interviewed by national and international media.
—Featured on ABC World News Tonight
—Interviewed by the Wall Street Journal and MSNMoney.com
—Nationally-syndicated news columnist (McClatchy News Information Services), writer of weekly"Back-Talk!"
—Featured twice on Ivanhoe Broadcast News; news feed to more than 250 TV markets in the U.S.
—Guest editor of award-winning Special Edition 2007 of Humana's HAO "Love Notes" magazine.
—Relationship Trainer to businesses/corporations
—Army Wife Talk Radio Show: Contribute "One-Minute Relationship Tips" for internet radio show and enewsletter monthly columnist
—Bridal Show exhibits
What can I do that I haven't already done to get big publicity a few weeks before Valentine's Day (using Valentine's Day as the tie-in, obviously) to significantly stimulate book sales for Everlasting Matrimony? Shows like "Today," "Good Morning America," etc., won't talk to me because I'm self-published.  Also, I am not interested in teleseminars, teaching a course, or creating CDs to sell.