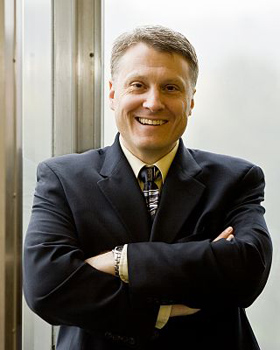 Occasionally, I'll get a call from somebody who thinks it might be "fun and interesting" to be in the world of PR, or a publicist. But they don't want to go back to college and spend more than $50,000 on a degree in PR or communications.
So they ask me what the best way is to break into the business. I suggest they follow the same people I follow:
—BL Ochman and her whatsnext blog
—Book marketing guru John Kremer and his excellent blog and weekly ezine
—Anything published at the Bulldog Reporter site, particularly its Journalists Speak Out interview series. 
I'm adding Gaetan Giannini Jr.'s new book, "Marketing Public Relations: A Marketer's Approach to Public Relations and Social Media" (Prentice Hall, $93.33) to my list. Several years ago, Giannini, business department chair at Cedar Crest College in Allentown, Pa., seached for a public relations textbook tailored to marketing students, instead of communications or journalism students.  When he couldn't find what he was looking for, he decided to write one.
He has had an extensive marketing background, having worked for several years in sales and marketing for industrial instrumentation companies before landing at Cedar Crest . In addition to writing a public relations book from a marketer's perspective, he reveled in the opportunity to write about the burgeoning world of social media, which he claims has been widely ignored by academics.
    
      
PR and social media from a marketing perspective
"Most of the textbooks that were written about Web 2.0 were written on the technical side.  As far as I know, there is not one textbook out there at this point that covers this topic from a marketing perspective," he said. 
Each chapter begins with a PR success story. They include:
Dunkin' Donuts' Facebook page that boasts more than 825,000 fans.
   
Ben & Jerry's "Random Acts of Cone-Ness" campaign. Employees "showed up" in undisclosed locations in three major cities and distributed ice cream in support of the company's new waffle cone. The story attracted the attention of CNN, ESPN, national and local newspapers, and trade magazines.
        
Gary Vaynerchuk, a New Jersey liquor store owner who founded Wine Library TV, a "shoot-from-the-hip" Internet video podcast about wine that boasts nearly 100,000 views daily.  Vaynerchuk connects with his audience through frank, honest wine talk to which people can relate.
  
Practical experience for students
What really makes this book a must-read for anyone going into PR or publicity, or for marketing student who want to learn more about PR, are the "chapter objectives" that kick off each chapter and show show students what they should be able to do after reading it, and the three special sections at the end of each chapter. They include:
Chapter key terms, which lists words and phrases used in that chapter, with their definition.
  
Application Assignments. Students can  complete from one to five assignments that involve more research, reading articles online or finding examples of strategies and tactics they just learned.
   
Practice Portfolio. This activity is related to the material covered in the chapter. It allows students to contribute to a marketing public relations portfolio that they can use during their job search. The portfolio can be based on a fictitious company or on a real company that the instructor assigns to them. The student "works" with the company the entire semester. At the end of the chapter on press releases, for example, students are asked to write a backgrounder, fact sheet and two press releases for their company.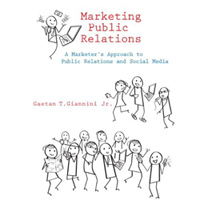 One of the problems with books about social media is that sections can be out of date by the time the ink is dry. Still, this is a valuable book that encourages the student to not just learn it, but do it. My only wish is that it had included informaton about the importance of using keywords in press releases so they are search-engine friendly. 
Don't let the steep price deter you. There's three times as much content as you'll find in most other PR books, and most chapters tackle a topic in-depth, with lots of practical tips.
I loved the chapter on Building a Connector List, and how to determine the types of media that can help you spread your message. I'll be sharing those tips later this week and excerpting more from the book in the months ahead. (Disclosure: I contributed to the book.)      
While "Marketing Public Relations" is a textbook for mid-level marketing students—one which Giannini will use in his classes this fall and which will be available for general consumption for educational institutions by spring semester—he is quick to note that the content is perfect for any organization that wants ideas and strategies to promote its products and services.
 By the way, I love the press release about the book.