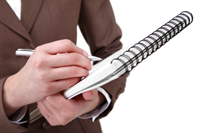 The free media leads services that connect journalists with sources can be a valuable tool in your publicity campaign, but only if you know the right way to answer a query and  convince the journalist to call you.
Otherwise, these services—PitchRate.com, Help a Reporter (HARO) and Reporter Connection—can be a huge time suck, particularly if you're subscribing to all three.
When I wrote yesterday about how to find journalists online and wow 'em with your pitch, I got an interesting comment from Shelley Hunter:
"I finally unsubscribed from one of the media leads services because I found myself taking the easy way out.  Rather than spending a few minutes each day mining for PR gold, I just waited for the leads to come to me.  I combed through the requests and answered those that fit my criteria.  But like you said, competition is stiff and only once did I get a call back.  At last, it occurred to me that I could have spent all those minutes (that added up to hours) establishing actual connections on my own.  It feels like a slower way to go, but one good connection could lead to others."
I replied and told her that a lot of the return on investment of time depends on your area of expertise, and how many other competitors are within that niche. Broad topics like small business success, for example, can result in hundreds of responses, and you can be sure journalists won't be reading all of them closely.
So what's a frustrated, time-strapped  Publicity Hound to do?
     
    
Media leads services or your own research?
The smart ones will do both. They'll use these free services AND pan for gold, using the tips I provided in the blog post mentioned above.
Here are guidelines to follow when answering a journalist's query:
Keep your response short. Absolutely no longer than one screen of type.  One-half screen of type is preferred.
Briefly expain what makes you an expert on this topic.
If you can offer the journalist other sources, say so, but don't name them or provide contact information unless the journalist asks. And make sure those other sources would agree to be interviewed.
Can you provide an image to accompany the story? Mention if you have a bar chart, pie chart, map, cartoon or other graphic, but don't attach it to the email response. If the journalist wants it, he will ask.
NEVER tell the journalist to "visit my website to learn more about me."
If you have a contrarian viewpoint on an issue, say so up front. The media love controversy, and your response will stand out from among all the others.
Keep your response on topic. If you can't help the journalist with the topic she's writing about, don't offer your expertise on another topic and NEVER respond to a query only to pitch another story idea. Do this, and the reporter will blacklist you.
If you're lucky enough to have a virtual assistant, delegate the task of sifting through all these leads.
One alternative to these free services, which can be like drinking from a firehose, is Dan Janal's PRLeads. For a monthly fee, Dan will send you only the queries that tie into your area of experitse. 
       
      
Share your own experiences
     
What kinds of responses have you gotten from journalists using any of these services?  What media outlets covered your story as a result of responding to a journalist's query? What tips do you have to share on how to answer a query? Or is your time better spent building strong relationships with journalists one on one?
Weigh in here.