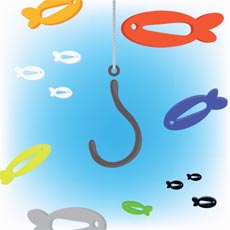 The next time a journalist is interviewing you, or a blogger is interested in an idea you're pitching, ask this question: "Do you need other sources?"
They love that question because it shows you're trying to make their job easy and you don't want to hog the media spotlight.  If you can provide a name, email address and phone number for an expert or source who you know would agree to be interviewed, you'll position yourself as helpful.
After 22 years working at newspapers, I can tell you that almost NOBODY asks that.
Here's another question that people almost never ask: "Are you looking for photo ideas?"
This session is perfect for beginner and intermediate self-promoters.  I presented it a few weeks ago to Stompernet, the association of Internet marketers, to rave reviews. Come with your questions and I'll answer them all, either during or after the call.
I'll also explain the missing link—how to create relationships with journalists and bloggers.  And I'll share my favorite free tools that help you know instantly which journalists need sources with your expertise, and how to contact them.
The session will be recorded, and you can watch the video replay after the call. 
Register here.
What other questions or phrases do you think are useful to use when speaking with journalists or bloggers? 
(Shutterstock illustration)