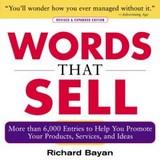 Have you ever found yourself writing a great article, or website copy or even a press release, and suddenly you're hopelessly stuck because you can't think of a better way to say a word like "authentic" or "beautiful" or "free"?
I've been known to sit there for 20 minutes staring at the screen.
My friend Denise Wakeman, half of The Blog Squad, told me about the book "Words That Sell" by Richard Bayan.
She says she keeps it right next to her keyboard at all times, and I can see why. You use it like a thesaurus.
The book is divided into separate "chapters" devoted to a specific word of phrase. Each chapter usually offers several dozen suggestions for words that are similar to the one you're stuck on.
I particularly love the chapters devoted to transitional phrases, the P.S., justifying a high price, and flattering the reader. I can think of dozens of uses for this book: press releases, media kits, blogging, article writing, website copy, sales copy, public service announcements, information products, White Papers, office memos, marketing copy, columns, pitches to the media, and letters to the editor. Even those obnoxious annual Christmas letters.  
I was so impressed with this book that I did an entire lecture on it for members of The Publicity Hound Mentor Program recently. They loved it.
Denise and her partner, Patsi Krakoff, by the way, will be my guests tomorrow as part of Publicity Hound University. They'll talk about the power of blogging and podcasting.