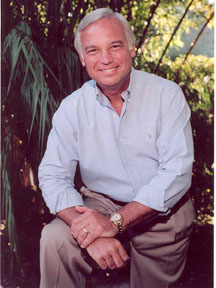 If you're writing your first book, or your next one, who better than Jack Canfield to tell you what you need to do to make that book fly off the shelves?
I can't begin to guess what he charges for one-on-one consulting. But no matter.
You can win a lunch with Canfield, co-author of the phenomenal "Chicken Soup" series that has sold more than 115 million books. Pick his brain about your book or, if you don't want to write a book, your next project.
At one point, he and Mark Victor Hansen, his co-author, had seven books on the New York Times Best Seller List simultaneously—a world record.
Steve Harrison is offering a free 90-minute telephone seminar with Canfield at 2 and 7 p.m. Eastern Time on Thursday, Oct 15. It will be about an hour and a half, and it's the second preview call for Steve's upcoming Quantum Leap Publicity & Marketing Coaching Program. Everyone who registers for the call will be entered in a drawing to have lunch with Jack and Steve and three other people. 
During the teleseminar, you'll learn about:
—Jack's journey from inner city public school teacher to bestselling author and speaker.
—How he and co-creator Mark Victor Hansen kept going when "Chicken Soup" was rejected by 144 publishers.
—What to do if you find yourself reluctant to aggressively market your work.
—Jack's advice if you need to make money within 30 to 60 days.
—The two mindsets you need to create a bestselling book.
—How to find someone to sponsor your book.
—The "bypass marketing" strategy that made "Chicken Soup" a big hit.
—How to systematically create word-of-mouth marketing for your book.
The two winners of the "Lunch with Jack" drawing will be announced during Thursday's call.