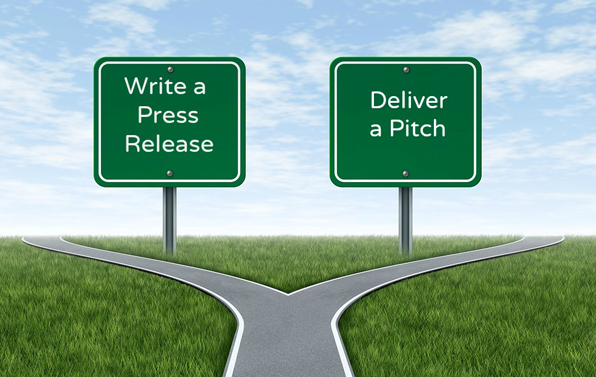 You have an idea for a story that will generate free publicity for your company or nonprofit, a product or a service, or a book you're launching.
Your first temptation is to write a press release. But you know press releases are often ineffective for getting a major story. Customized pitches to specific journalists and bloggers, however, often go unanswered. 
So what do you do? Take your chance on a press releases or on a pitch?
The decision is important because each has its own purpose. If you choose the wrong one, you can miss your chance at publicity.
Here are the advantages and disadvantages of each. Tomorrow, I'll explain guidelines on when to use a press release and when to deliver a pitch.
Advantages of a Press Release
1. A press release can include all the pertinent details.
2. It lives online forever. People can find the release in your online press room months and even years later and discover a lot about you and your company. 
3. It can include valuable links to things like sales pages.
4. It can include hashtags, which make it easier to be found via the search engines. You can even use hashtags in press release headlines.  
5. If a blogger or journalist is interested in covering your story, they don't have to waste time asking for all the details. You can send them the link.
6. You don't have to write a press release only when you have news. You can reach consumers directly and write it in the form of a tips list that offers helpful information on how to solve a problem. See How tips lists can get you publicity in top-tier media.
7. You can promote your press release dozens of ways such as linking to it on the social media sites and from your social media profiles.
8. A press release can position you as an expert. If you answer questions on a site like Quora.com, you can link to a release where people can find more information.   
Disadvantages of a Press Release
1. The release, by itself, seldom results in a major story.
2. Journalists receive them by the thousands and don't have time to read more than just a few lines.
3. If the headline is poorly written or confusing, you've lost the reader.
4. They're difficult to write well and often include industry jargon and B.S. quotes. 
5. Younger journalists, particularly those in the tech sector, see press releases as an "old school" tool. 
6. Journalists and bloggers want to break news and often want an "exclusive." A press release gives everyone the same news at the same time.
Advantages of a Pitch

 1. A well-written customized pitch tells a journalist or blogger "I know who you are, I know what you cover and I can help your audience."
2. The Internet makes it possible for you to thoroughly research the person you're going to pitch and, if appropriate, weave in details that pertain only to them. It's even possible to find the name of a blogger's dog, cat or kid in 60 seconds.
3.  You can customize different pitches for the same story idea, depending on the media outlet.  
4.  Journalists and bloggers don't know if they're the only ones receiving your pitch. 
5. You can offer enticing "extras" such as additional sources, a video, an infographic, a Skype interview, or a list of industry definitions. 
6. You can time a pitch so it's perfect for an upcoming special section in a magazine, or an upcoming holiday. 
Disadvantages of a Pitch
1. You should know how the journalist or blogger wants to be contacted. If you don't know, and you call reporters who absolutely hate phone calls, or pitch them on a site like Facebook which they use only for staying in touch with family and friends, you risk alienating them. 
2. A pitch must be succinct—no more than 15 seconds by phone and only a few sentences if you're emailing it.
 3. You will often hear nothing, and you must decide the best way to follow up and know the mistakes to avoid. Do not contact the recipient and ask, "Did you receive my pitch?" Do not include an annoying "delivery confirmation" request on an email pitch.
4. A pitch is very difficult to craft well. It must offer enough information to be enticing, but not so much that it becomes overwhelming. The best pitch promises a great story and entices the recipient to contact you to learn more.
5. If you don't do adequate research, you can end up addressing blogger Pat Brown as "Ms. Brown" when, in fact, Pat is a man. Know the 7 deadly sins of pitching journalists and bloggers.
What advantages or disadvantages have I missed? Comment below, and share this post in your Google+ groups.