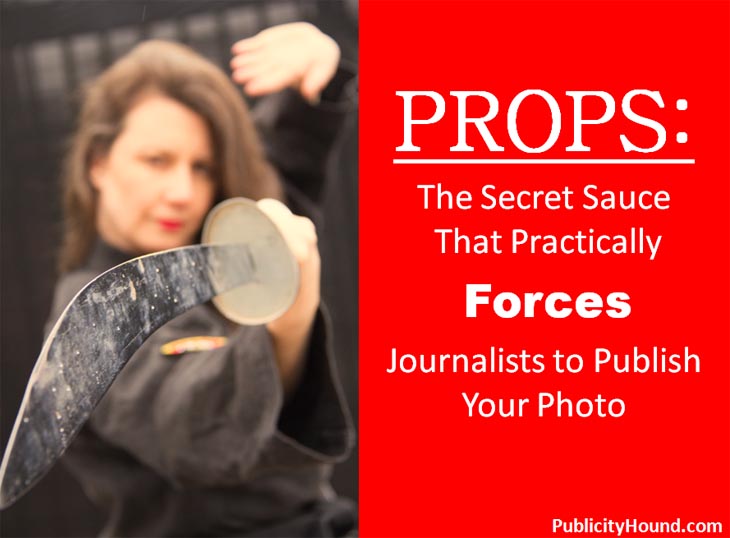 Add this one item to your media kit and watch your publicity explode.
Include a package of photos—or only one photo—featuring props related to your personality, your book, your product or service, or your business.
Props make your photos come alive. They practically beg to be published. And they make it easy for journalists, bloggers and others to cover your story.
The photo above shows film producer and author Philippa Burgess with her tiger hook sword. Philippa, a second-degree black belt, says kung fu, a Chinese martial art, is not just a hobby but an obsession. Ashleee Bratton of Ashography.com took the photo during a shoot last spring. I love it because the emphasis is on the sword, but you can still see Philippa's face.
This would be a perfect photo for a weekly or daily newspaper or for a blogger who writes about her. Offer a professional photo like this in your media kit and you'll boost the chances that a photo will appear with your story. (Learn more about author media kits during the free training Thursday, May 19, on "The Indie Author's Guide to Creating a Killer Media Kit.")
On social media, people like, share and comment on fun photos.
When I put out the call several weeks ago for props photos, I was surprised to see that many of the people who submitted them use the photos for their own marketing, but don't make them available in their online media kits—a missed opportunity.  I don't either! And I need to update my own media page with photos anyone can grab and use.  
Many Uses for Props Photos
When I had my professional photos taken last year, also by Ashlee Bratton, I brought lots of props.
We were in the hotel hallway at an author event, so we didn't have the benefit of a photo studio with lighting. But the shoot resulted in several photos that are serving me well. Here's one of my favorites, which I used for a giant banner that I take with me to events and trade shows. (See "9 Other Ways to Use a Trade Show Banner for Marketing.")  

I used a variation of this photo on The Publicity Hound's Facebook page.   
Giant Props Attract More Attention
Author Michael Thompson, who writes Christian fiction, had this photo taken with Goliath, a 10-foot tall suit of armor, and used it during his photo shoot with Memphis photographer Woody Woodliff. It was made by Memphis metal sculpture artist Jerry Coullard. The photo also shows a model of the Ark of the Covenant, made by artist Jim May who built it with styrofoam and covered it in faux gold leaf.
"I used it for book signing tour of DAVID–the Illustrated Novels on the Life of King David," Michael said. "I rented a U-Haul for the art of the covenant. I can put the 10-foot Goliath into my SUV, an Infinity QX56, erect it in about 20 minutes outside a bookstore, and take it down in about 15 minutes."
He's convinced that Goliath helped pull more people to his book signings.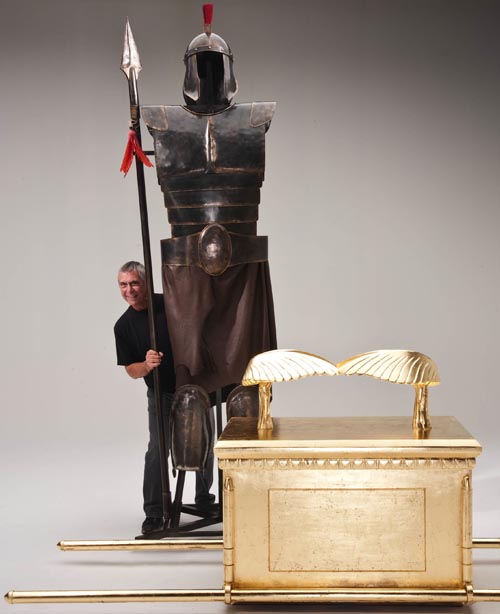 Everyone Loves Pets as Props
Who doesn't adore a cute dog or cat photo? That's why pets work so well as props.
Here's a publicity photo of  Barbara Florio Graham and her cat, Simon Teakettle. The high-contrast photo is especially appropriate because her company is named Simon Teakettle Ink. Barbara is a writer, teacher and communications consultant.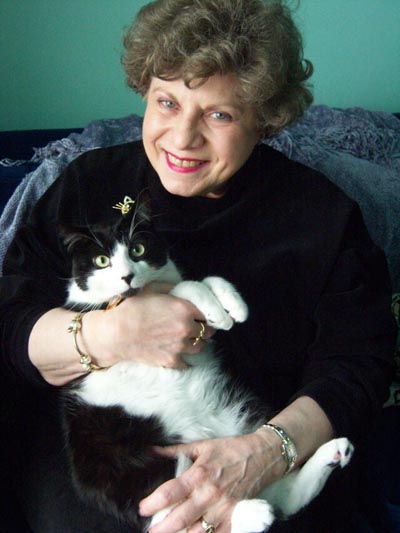 The Publicity Hound would never forget about dogs. Here's a photo from Nancy Cleary of Wyatt-MacKenzie Publishing, Inc. Her dog is named "Book." 
"As a publisher, my sidekick, Chocolate Lab, sure attracts the right kind of writers," she says.  "He's been the perfect prop."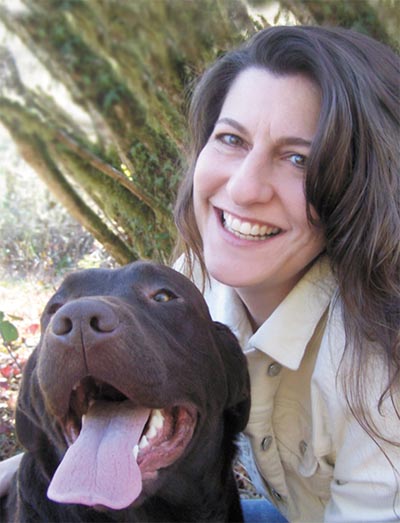 Is Your Car a Prop?
Opera singer Cristina Fontanelli had a photo taken standing in front of a one-of-a-kind car that would attract the attention of residents in the Hamptons, where she tours. She used the photo on her Facebook page, Opera in the Hamptons — Cristina Fontelli and Her Fabulous friends.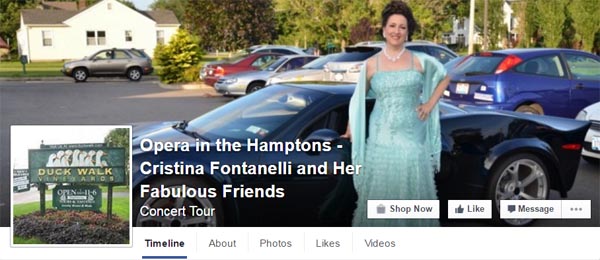 I hope these ideas prompt you to think about props you can use for your publicity campaign. If you can't think of an idea, tell us in the Comments below what you do. I'll suggest ideas that will help. Other readers might, too.
If you've already used props and have a photo to share, you're welcome to include it in the Comments so we can see what you've done. Mention whether it has helped you generate publicity and, if so, where. 
Have fun with props!