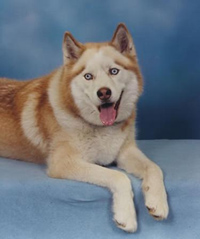 When Publicity Hound Michelle Tennant of Wasabi Publicity emailed me last week to let me know that her beloved pet, Lex, a strawberry blonde Siberian husky, had died, the obituary she wrote for him made me smile.
While reading it, I couldn't help but think that it's more interesting than the personal bios of many humans I know. As you read what Michelle wrote, notice the fun little details—something that's sorely missing from so many human bios.
"Lexington (Lex) passed yesterday at 3:50 p.m. Eastern at our vet's with my husband Shannon and myself at his side holding his paws. He was the most gentle, loving dog one could know and love.  He had complications from a lung condition, pancreatitis and diabetes. He is survived by Lou Lou, the black and white husky in the photos attached.
"In 1998, I rescued Lex from a Cincinnati kill shelter when he was six months and he's lived a fabulous, adventurous life travelling throughout Ohio, West Virginia and the Smoky Mountains (and other great places whitewater rivers run).
"His life's work: children:
"He attended children's birthday parties with me while I was living in Cincinnati and working on the weekends as a children's entertainer. He was my 'pirate' sidekick teaching children manners at the dinner table because he knew how to 'wait' until others were served before eating. (He would even WAIT with a small White Castle hamburger placed on his paw. Now that's a good dog.)
"He earned his 'good canine citizen award' in 1999.  (This is like a Ph.D for dogs!)
"His favorite past-time–chewing/catching tennis balls, digging holes, and cooling off in a baby pool.
"Please have a moment of reflection today to celebrate this very special soul. And then hug a pet or person you love and remind everyone wanting a pet to adopt from shelters first. They are so appreciative of second chances."
We can learn two things from this:
—Use details, details and more details.
—Writing about the relationship with our pets in our professional bios can teach readers more about us than a monotonous list of academic degrees and other trivia we think are important. 
When Michelle was in The Publicity Hound Mentor Program, she heard me harp repeatedly  about the importance of interesting bios. In my  "Special Report #46: Tips for Rewriting Your Boring Bio," I mention that bios are difficult for most people, even authors. Some authors write bios that lack the same passion that's evident in the writing of their books.
Some of you might argue that details about your pets don't belong in a professional profile or bio. What do you think? Would you consider including information about your pet in your bio? If so, tell us something about your pet that lets us know more about you.  Or link to a bio at your website that has information about your pet.