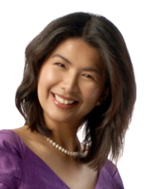 This week's guest post was written by Charmel Delos Santos, a private trader, author, mother of three, and ex-beauty queen wannabe. Ger her free preview ebook, "High Heeled Traders," and learn how to trade profitably like only a woman can.
*     *     *
By Charmel Delos Santos
I taught my 2-year-old daughter a children's song last week and she has since been humming it for days—she seems to like repeating an itty bitty three-word-part she can't keep out of her head. Like golden nuggets of wisdom, some words nicely strung together can have a lasting effect.
So let me share how I strung some words together and got some immediate and far-reaching publicity.
In December, I finished a book on stocktrading for women and decided to go on a "business and pleasure holiday." I live in Sydney, Australia and went to holiday in the Philippines where I came from originally.
After a week of splashing island time, we pitched TV stations and got their interest. Two TV stations promptly sent their news crews for my book launching there. One TV station aired it on the evening news immediately following, and the other one aired the video clip three times on their cable channel!
A reporter wrote an article, Stock market trading is like shopping,  for the news website which bannered in their "Profiles" section for days. Also, the articles and video clip received high viewership and were consequently bannered in the "Most Read" features, even beating the article on Facebook IPO!
This is the newsclip:
Back here in Sydney, I pitched our local newspaper, the North Shore Times, and they wrote a feature article on the book. After publication, I thanked the journalist and told her about all the interest it generated and offered to send her a complimentary book. She replied and asked me how I'd like to have a "book giveaway" promo on their Facebook site!
Make Magic with Words
Journalists are busy people. Attract their attention right away by putting the statements that will jump out at them in the headline or subject line or in the very first paragraph of the press release.
Here are the ideas I've used:

1. Use local references.
My book and my messages have global appeal which is "investing/share trading for women," but I made an effort to make it a juicy, relatable topic for the local audience. 
For the local newspaper, the North Shore Times, my headline was "North Shore women are trading". " In the Philippines, the press release carried a statement that appeals to the values of the target audience. I said the "Filipinas (as women in the Philippines are called) are very keen in finance to help them care for their families."
   
   
2. Use humor.
 No jokes required, but a little play on words that will make a journalist smile, be amused or feel good will surely get you into their good graces. If you can get a weighed down journalist to lighten up, imagine how he could use that to good effect to his audience!
I included a twist—associating a "non-business" word to finance. I used this in the press release I sent to them, and again in the TV interviews. Phrases like "Trading gets extreme… makeover!"
 
I compared two vastly different concepts "trading is like shopping." If you can do so with a resulting comic effect, that would be so much better.      
 
3.  Make a "challenging" statement.
This could be a totally new perspective or state a little-known but increasingly important point.
I said that "Women are natural traders" although they really are scared of trading in stocks, and 90 percent of traders are men. I explained that trading is just buying and selling. "In our world, it's called shopping. Women shop a lot."
I also said "more stay-at-home moms are trading" because they like the flexibility and want the extra income.
So there! Weave some magic into the words you use to pitch the media. You'll have more credibility and get more publicity!