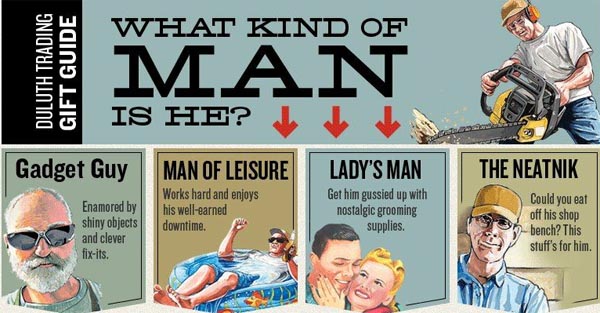 One of the biggest struggles in marketing is talking directly to every visitor who comes to your website or your Facebook page.
That's true with me because my target audience includes PR pros, small business owners who want do-it-yourself publicity tips, authors who know nothing about book publicity, and rock bands that want more online visibility to book more gigs. But how do I speak to each of those groups quickly, and direct them to the part of my website that will help them most?
Look at the beautifully illustrated and oh-so-simple infographic that the Duluth Trading Co. uses on its Facebook page to help customers find, within seconds, the perfect gift for the type of guy who needs it. I'm guessing this was probably done by their ad agency, but we could take this same idea and adapt if for our own use. 
If your target audience includes segments that are very different, consider something like this. You could use a simple infographic to lead specific segments of your audience to certain categories of free articles, for example. What other ideas can you think of on how to use an infographic like this in a publicity or social media campaign? Share your ideas in the Comments section below.
Duluth Trading Co., by the way, is coming to Port Washington, Wis., where I live, setting up shop in the old Smith Brothers Restaurant which has sat vacant for several years. Can't wait until they open this fall!
   
   
Tools that Can Help You: