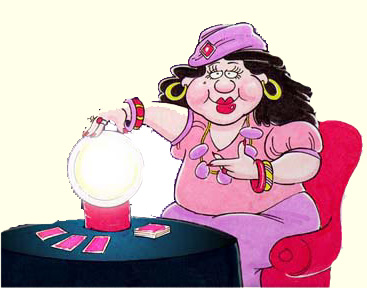 Few people have a harder job getting publicity than astrologers, fortune tellers and others of their ilk.
The media are naturally suspicious—except when their predictions or comments tie into a hot, timely topic.
Thanks to radio publicity expert Wayne Kelly for tipping us off to this great and super short press release written by Steve Allen Media for client Maria Shaw, the astrologer for the National Enquirer.  It was written just before the final episode of "American Idol."  Here's the release:
Who will win on "American Idol"?

Ask Hollywood astrologer Maria Shaw.

Shaw appears on VH1, MTV, E!  And other national TV programs and is the National Enquirer's weekly horoscope columnist.  She says she knows who the next Idol winner will be.

Arrange an interview through Chris Tourigney: 661-255-8283.

Or send an email to chris@steveallenmedia.com
The PR agency said it got at least 20 media hits from that release, and at least 40 more from a release it wrote about Maria Shaw's commentary on July 7, 2007, the luckiest day of the millennium.
Just for the heck of it, I Googled her name and found a great ad mentioning her in Radio-TV Interview Report. Look at all the ways she piggybacks her predictions onto the celebrities.
If you specialize in a New Age topic, check out Alex Carroll's new media list of 213 broadcast and Internet radio shows that welcome guests who can speak on topics related to New Age, self- improvement, mind/body/spirit, and empowerment.  It's the only list of its kind, and because many of these shows reach very niched audiences, they have a loyal following. 
If you're an expert on any other topic, you might be able to tie your news into celebrity gossip.  Learn more from "Special Report #50: How to Piggyback onto Celebrity News to Promote Your Product, Service, Cause or Issue."