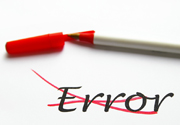 The next time you're ready to send a press release, post an article to an online directory or publish a blog post, make sure it's error-free.
Mistakes are a bigger problem than you might think.  The Sheboygan Press in Wisconsin, where I worked as the editor, says at its website that one-third of the corrections it prints are due to incorrect information in press releases and from sources.  One third!
Here are six tips on how to avoid mistakes, excerpted from my ebook, 89 Ways to Write Powerful Press Releases. The ebook is a compilation of my free email course on how to write and distribute releases.
Ask someone else to proofread your work.  Every editor needs an editor. If you don't have a virtual assistant, who can do this for you, learn more about how to use a VA for publicity and PR.
  
Tell your proofreader to actually call telephone numbers that appear in the release, and type website URLs into a browser window to make sure they are correct.
    
Make sure dates are consistent.  If the date of an event is Feb. 12 in the headline, is it Feb. 12 in the body copy?
   
Don't rely on spell-check.  If it's supposed to be "their," and the release says "there," spell-check won't catch it.
   
Double-check the spelling of all names.
  
Use the Associated Press Stylebook, the essential tool journalists use to determine things like the correct names of government agencies, whether certain words should be capitalized and when names of groups should be abbreviated, like AARP.
If you learn later that you've erred, ALWAYS call publications that received the release and ask for a correction.  Most publications will make note of a correction on the story where it first appeared.  That prevents other writers who use the article as background from repeating the error.
     
    
How to Correct Online Releases
If you distributed the press release through on online press release distribution service like PRWeb, contact the company. PRWeb lets clients correct their own press releases and says the majority of the indexing includes a link back to the original release. It does not issue separate corrections.
If your correction appears in a blog post, the best way to correct it is with an Update, or by using a strikethrough, like this.
What other things do you recommend for avoiding mistakes in press releases?