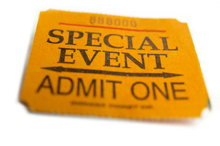 When it's time to promote a live or special event, do you rely on the same old websites to spread the word?
Posting on Craigslist, Facebook and LinkedIn is a no-brainer.  But if you aren't doing much more than that, you could be missing the smaller niche websites where you can target your ideal attendees like a laser beam.
A Great Site for Musicians to Promote
For example, did you know that more than 25,000 musicians have used the free account at ArtistData.com to promote more than 4. 9 million shows, events and other news across MySpace, Twitter, Facebook and other websites that reach their niche audiences?
You can submit information about a gig and it will automatically post your music-related calendar listing to more than 25 sites.  That's a lot of eyeballs reading about you. (Thanks to my friend, indie music marketing expert Bob Baker for that tip.)
But that's just for musicians.  Major websites like Craigslist and niche sites abound for businesses, tourist attractions, authors, speakers, experts, nonprofits, sports events and more.
Join me from 3 to 4:30 p.m. Eastern on Tuesday, Oct. 19, for the webinar "50+ Places Online to Promote Your Live & Virtual Events to Reach Your Target Market and Pull Sell-out Crowds."
Update on Oct. 27, 2010: I recorded the webinar and it's now available as a download link, along with the MP3, handouts and the PowerPoint presentation I used for the video. click on the link above.
Bonus for the First 20 Registrants
The first 20 people who sign up get my handy checklist of all the sites I mention during the webinar, plus a long list of offline places to promote events.
If you aren't among the first 20, you still get a replay link for the video, the PowerPoint slides I used during the presentation, and the MP3.  I will email you the handouts the morning of the call.
This webinar is perfect for:
PR pros and publicists whose clients host events
Authors who want to promote book-signings
Experts who host teleseminars and webinars
Virtual assistants who do PR for their clients
Speakers who promote classes, workshops, training events, seminars and boot camps
Nonprofits that host fund-raisers, from neighborhood activities to black-tie charity balls
Anyone who does PR for tourist attractions like museums, parks, festivals and sporting events
PR people who promote activities at schools, colleges and universities
Event and meeting planners
Corporate PR departments that promote events for their companies
Volunteer groups that help with event promotion
Arts groups that must pull crowds to art festivals, gallery tours and meet-the-artist events
Party planners
Anyone who co-sponsors events
Hope to see you on Oct. 19!