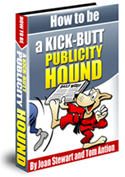 Twice this week, people who want to create ebooks but are afraid that the content will be plagiarized, or that their customers will give the ebooks to their friends, asked me how I prevent that from happening to my own ebooks.
I don't worry about it. Period.
With one slight exception. When you turn a document into a PDF, the security settings allow you to prohibit people from cutting and pasting the text. I always do this to prevent someone from stealing my content and turning it into an article with their byline. They can retype what I've written, of course, but preventing cutting and pasting makes plagiarizing more difficult.
But if people are able to download the ebook and save it to their hard drive, there's nothing I can do to prevent them from passing it along to their friends. Let's say somebody passes along my ebook, How to be a Kick-butt Publicity Hound, shown here.
Lots of reasons not to fret
Throughout the ebook, I include links to sales pages where I sell related products. If somebody who has received it for free clicks on one of those links and buys a product, I win.
Ditto for links to other people's products and services that I sell for a commission. If somebody who has not bought the book clicks on a link and buys a product from a vendor who pays me a commission, I win.
My ebooks include a list of "Recommended Resources" at the end of each book. Many of these resources are products and services I sell for a commission. I only include products and services from vendors I know, and that I can stand behind 100 percent.
My ebooks also include a list of places where readers can find lots of free content, like my free "The Best of The Publicity Hound's Tips of the Week" ebooks. Every December, I give away a free ebook filled with the best two dozen tips from that year's ezines. I encourage people to regift the book to their friends. Every item includes links to my own products, or to products and services I sell for a commission. I've even written about 12 ways you can use my free ebooks.
The person who gets an ebook that somebody else bought might not know me. Because my ebooks are content-rich, the reader might think, "This is pretty good stuff. I wonder what else she has at her website?"
When creating your ebook, think of all the ways you can use that book to sell other things. Build in links to your website, links to product pages, links back to your blog, affiliate links, and links to places where a reader can find more free content by opting in with their name and email address.
I always include references to my free ezine, "Craigslist: A Valuable Publicity Tool." and tell people how to subscribe. If somebody who gets the ebook for free subscribes to my ezine, I now have their email address. Again, I win.
Authors and publishers, particularly those who publish printed books and other materials, have taken me to task for this attitude, but that's OK. Let them spend time worrying about how to protect their content. I'd rather spend my time creating more helpful content that my readers might pass along to someone who doesn't know me.
Am I wrong?
If you publish ebooks, how do you deal with this "problem"? Do you think I'm wrong?
By the way, if you're looking for content for your blog, pay attention to questions that people are asking you. This blog post originated because two people asked me the same question. If you want more ideas on how to find blog content, see "Time-saving Tips for Smart Business Blogging," a teleseminar I hosted a few weeks ago with blogging expert Patsi Krakoff.
One of the handouts includes 101 ways to find content for your blog. Here's a list of 9 easy places to find content for your blog, from those handouts.