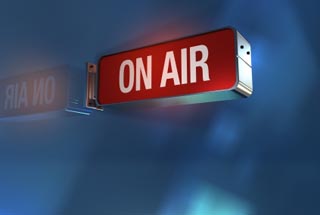 If you write books, or you want to write one, don't even think about catching the attention of a major publisher unless you have what's called platform.
The bigger your platform, the greater your influence and following. It's that simple. 
You can build your platform dozens of ways online and offline. One way is by having your own radio show. I can't begin to count the number of Internet radio hosts who have invited me to be a guest on their shows. I always say yes because I never know who might be listening.
Traditional radio has big pay-offs, too. I've gathered hundreds and perhaps thousands of email addresses from people who have heard me on radio shows. A local business talk show here in Milwaukee invited me as a guest, and a listener who heard me called and asked if I'd create a PR campaign for him. I'm not a publicist but referred him to one of my friends, who ended up with a $15,000 contract.
Even if you're not an author, having your own radio show can be downright impressive to potential clients and meeting planners who hire speakers. 
Radio show a path to stardom
Over the years, this proven marketing strategy has worked for such diverse personalities as Oprah, Dr. Ruth, Howard Stern, Rush Limbaugh, Dr. Phil, Donald Trump, Martha Stewart, Dr. Laura and many others. In fact, one of the best ways to get media attention is to become a member of the media yourself.
To discover how to get started hosting your own show, join my friend Steve Harrison of Radio-TV Interview Report (RTIR) for a free 90-minute telephone seminar at your choice of two times on Thursday, March 26, on "How to Get Started Hosting Your Own Radio Show For Fame, Fortune and Fun!"
On the call, you'll hear Steve interview radio veteran Martin Wales, who's hosted a number of different shows on both traditional and Internet radio. You will learn:
The pros and cons hosting on traditional radio station vs. Internet radio
   
Common mistakes to avoid either way you go.
   
How one Internet radio host parlayed her show into a trip to the White House and meeting with the president in the Oval Office.
   
Why you don't even need to leave home to host your own show.
   
How to make money with your show even if you have few listeners to start.
   
Why recent technological advances mean you should really consider having your own show—even if your subject is extremely specialized.
   
 Martin's 'Leapfrog Strategy' wherein you start on a small station then continually move up to increasingly larger audiences.
   
How to get freebies and press passes to special events by having your own show.
   
Strategies for quickly generating sponsorship revenue for new shows.
    
Got a business you're promoting?  How one mortgage broker saw his business skyrocket after he started hosting his own show.
And if you need a guest…
If you end up with your own show, don't forget about me. I'd love to be a guest and share my best publicity tips with your audience.
I typically do shows on how to promote your expertise online and offlne, blogging, social networking, and how to write press releases.