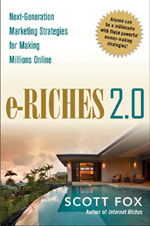 Thousands of people who are being downsized, right-sized and capsized during this bad economy aren't waiting around for a job offer. They're looking to the Web for their next career—and maybe even riches.
Enter e-Riches 2.0–Next-Generation Marketing Strategies for Making Millions Online, a new book by Internet success coach Scott Fox.
If you're one of the victims of this economy and you want to start selling online, or you're new to Internet marketing, you can learn all about the basics of what it takes to create a successful business online. If you've been selling online for several years, the book will bring you up to speed quickly on how to add social media to your marketing mix.
Here are Scott's 10 recommendations on how to use social networking as a marketing tool.
Invite a half-dozen or more friends to get your network started. Practice using the tools of the social network to communicate with them. For example, you can "add" friends on MySpace, "poke" or "write on the walls" of Facebook connections, or respond to some questions in the LinkedIn "Answers" section. (See Social networking ROI: A testimonial more valuable than an ad.)
           
Start engaging, publishing, and interacting. Get to know some people—that's  why you're here.
    
Be authentic. A big part of being authentic is letting the "real you" out to play. Nobody wants to play with a "suit," so don't be afraid to be yourself (within professional and legal limits, of course). Mixing the personal and business sides of your life is more common than it used to be.
    
Only try to connect with others with whom you really do have common ground. Indiscriminate friend requests are "friend spam." They are  no more appreciated than email spam or junk mail in the real world. (And if people you don't know starting linking with you, your own network will soon be less valuable, too.)
             
Ask for help. Most social network users are online to be social, and most are happy to help by sharing their knowledge about how the systems work.
           
Use feeds to keep up with your friends' activities and broadcast your own. Posting your own status constantly and cleverly is a great distributed engagement marketing tactic. This is one of the "missed opportunities" I discussed during the teleseminar I hosted this month on 11 Ways to Avoid Missed Opportunities on Facebook. 
   
If you have a blog, feed its posts into your profile page. This will automatically help keep your pages fresh and share your writings with a new audience, too.
   
Join some groups—learn the lingo and the tools of the network by using them and observing how others use them, too. Joining groups will also begin to create a natural dialogue with other users that will grow over time.
   
Be a good and involved citizen in those groups to cultivate new friends. There's no better way to gain the respect of any community than adding value by sharing info, support, or companionship—and these tools will amplify the effect. If you are an expert, social networks are a great way to spread your reputation cloud for that expertise.
  
Create your own group. Once you are comfortable, start a group around your product or brand. Position yourself as an expert resource and offer to help and facilitate community. Members usually proudly display the names of the groups to which they belong on their profile pages. This can lead to lots more clicks (and members) as others see your group's name or logo on friends' pages and in their feeds.
Scott's book includes more than a dozen examples  of real-life Internet marketing success stories, from a North Carolina furniture store that profitably captures high-end customers using pay-per-click search engine text ads on Google, Yahoo! andMSN (Chapter 21), to the article syndication strategy that has helped a Christian stay-at-home mom to attract lots of profitable traffic for her blog (Chapter 16).
The book  is $25 and published by AMACOM, the American Management Association.