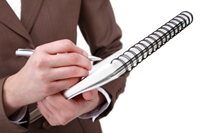 Update: Today, Wednesday, Sept. 22, is the last day to apply for the summit. Also, the price goes up after today, from 5,797 to $6,597 so if you still need to apply, go here.

Today is the last day for the $800 discount to attend the National Publicity Summit, the Oct. 20-23 event in New York City where you can personally get to meet over 100 producers and journalists who do stories and shows for many of America's biggest media outlets.
The regular price is $6,597. Apply before tomorrow and you pay $5,797 when you pay your tuition with one payment. Or make two payments of $2,997 each.  As of yesterday, only nine seats were available.
At previous summits, the media have included ABC's The View, Today Show, CNN, Fox News, O Magazine, Time magazine, Fox & Friends, 48 Hours, ABC's 20/20, Alternative Medicine, USA Weekend, Dateline NBC, Inc., Health magazine, Entrepreneur, MSNBC and Family Circle.
Steve Harrison's staff trains you so you can meet journalists face to face and pitch them with confidence.
After Rory Cohen, an expert in the psychology of success, attended the summit, she was booked on ABC's "The View" and also got a cover story in Entrepreneur magazine. That created a snowball effect.
"After I was on The View, I was able to get booked on CNN, which then led to a four-page spread in People Magazine," she said.
As a result of the summit, author Linda Franklin appeared on the "Today" show twice, Fox & Friends, Fox's "Good Day New York," Hallmark Channel's "New Morning," and in MORE magazine, Essence Magazine, The Boston Globe, The San Francisco Sentinel, The South Florida Sun-Sentinel, MSN.com, The Huffington Post and at least 25 radio stations throughout the U.S.
I promote the summit as a compensated affiliate because of success stories like those, the Harrisons' money-back guarantee and the training attendees receive before meeting journalists.