If you haven't converted your Facebook Fan Page to the new platform, it will look very different when you log on tomorrow, Thursday, March 10.
The tabs at the top will disappear.  In their place, you'll see an incredibly ugly photo ribbon that includes the five most recent photos you've posted to your wall. Here's an example I found on someone else's page:
I voluntarily converted to the new platform a few weeks ago and almost dropped dead when I saw the horrible photos that appeared at the top of my own Fan Page. They were as bad as the ones you see above.
Ugh!
One photo showed me standing next to another woman at a networking event.  The photo was so small, you you couldn't even tell it was me.  Another photo showed a guy with the bottom of his head cut off.
How I Solved the Problem
I figured out that I could buy attractive, inexpensive stock photos for just a few bucks each, upload them to my Fan Page and then "assign" them to that photo ribbon and actually use them to promote my business without being obnoxious. Here's my new photo ribbon:
No more ugly photos!  And another marking tool! (You can download that photo of the cute Twitter "Follow Me" bird and an entire package of similar photos, for free, at ProductiveDreams.)
But I want you to see what it looks like on my Fan Page and how it works:
1.  Go to my Page (the link is below, read these instructions first) and click on the Like button at the top of the page.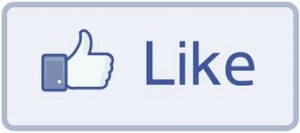 2.   Click on each photo in that ribbon–directly from the ribbon, not from the arrow that appears on the right side of the first photo after it opens.
3.  Look at the copy I've written at the bottom of each photo and click on the links to see where they take you.
Go here now, Like the page, and click on the first photo in the ribbon.
Isn't that clever?
That's only one of the new changes, and I just want to warn you not to freak when you see what your page looks like tomorrow.
More Facebook Help is On the Way
I've fielded dozens of questions from Publicity Hounds about what's new on Facebook.  And I've quickly scheduled a webinar for 4 p.m. Eastern Time on Tuesday, March 15, featuring Facebook extraordinaire Christine Buffaloe and me.
We'll walk you through the changes and explain how to take advantage of them to actually promote your expertise, collect more fans and do more business.
It's called "12 More Ways to Avoid Missed Opportunities on the New & Improved Facebook." If you attended a similar webinar we hosted on this three years ago, DO NOT follow the advice we shared then.
Facebook has undergone so many changes and has so many new features that some of the tips we shared, which were good then, can actually waste your time now.
Take a look at what we'll be teaching, and register for Tuesday's webinar.
Update on March 18, 2011: The video replay of the webinar is available here .