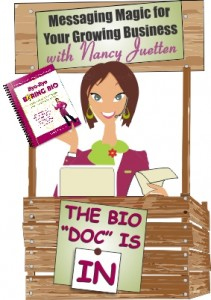 Professional bios are one of the most difficult things for Publicity Hounds to write.
Perhaps that's why so many of them are so boring.
Help is on the way!
Nancy Juetten, "The Bio Doc," will show you how to resuscitate a DOA bio during a free webinar tomorrow from 2 to 3 p.m. Eastern Time. Register here.  
On the call, you'll learn a road-tested and easy 5-step system you can use immediately after the call to tell an interesting story with your bio, whether it's your LinkedIn bio, or the online profile at your website, or the two-line author resource box at the end of an article you've written.
Your new bio will promote your expertise like never before, and perhaps even make people who are reading it smile.
This isn't only about clever writing. It's about clever writing that helps you attract clients, book speaking engagements, position yourself as the go-to expert, and encourage journalists to call you.
Trust me. I worked as a reporter and editor for two decades. If I read someone's dull-as-dishwater bio before deciding whether to pick up the phone and call them for an interview, I'd assume—perhaps unfairly—that their answers to my questions would be equally dull. 
Busy journalists can't waste time finding out. Many of them would simply call someone else.
Nancy will also discuss some of the most common mistakes people make when writing their bios. One of my pet peeves is a weak call to action, or no call to action.  
I've already started rewriting my bios for my new website, and I'm using some of the tips that I've learned over the years from Nancy. You can bet I'll be at attention during tomorrow's call.
I hope you can join us for "Transform Your Boring Bio from Wallpaper to Wow to Attract Clients Now."