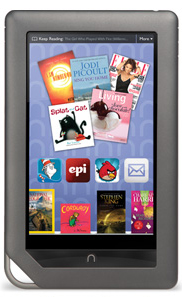 Here's one more reason to make sure your ebooks are available for the Nook (the Barnes & Noble e-reader) and Amazon's Kindle.
In a review in today's Wall Street Journal, columnist Katherine Boehret cautions against relying on the iPad if you're planning to read ebooks at the beach.  The iPad's screen has a glare that's accentuated in bright sun, even if you're under an umbrella and wearing a hat and sunglasses.
She likes the Nook and the Kindle and says that "at least for now, the Nook is in the lead."
The Nook, she points out, has something that the Kindle doesn't:  a touch screen.
"While Amazon's Kindle has a physical keyboard for inputting text, and directional buttons for painfully sluggish navigation, users of the Nook can make their way around it using screen taps or swipes; its onscreen keyboard appears when needed."
The popularity of both the Nook and the Kindle should be the nudge we need to make sure we offer our content as ebooks for customers of both brands. But formatting your content can be tricky if you don't know what you're doing.
I hosted two free webinars recently with Daniel Hall, who explains how to format your content for those two readers:
Publish an Ebook Today Using Barnes and Noble's Nook
Publish Your Ebook Today with Amazon's Kindle
But of these webinars are very long, but Daniel explains within the first 90 minutes how to format your ebooks. Each webinar is offered as a series of smaller videos,  so you can return and watch a certain segment if you need to review his instructions.