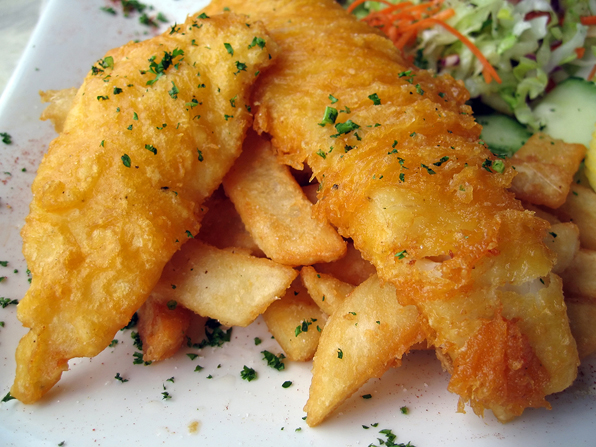 One way to kill your chances of getting onto local TV is to pitch your website.
That's what Tom Graber of Milwaukee wanted to do a few weeks ago.
Tom's website, Friday Fish Fry Guide, lists more than 1,000 restaurants in a six-county area in metropolitan Milwaukee. Every Friday of the year throughout the entire state, you can find a fish fry at corner bars, supper clubs, mom and pop dives and five-star restaurants.
It's a tradition here in Wisconsin, and Tom's timing was perfect because Ash Wednesday, the first day of Lent, was just a few days away.
But when he came to me for advice, I told him that pitching his website might sound like he's angling for a free ad.
Find a Hook
I recommended he find a hook. So I asked, "What trend are you seeing in fish frys?"
"Definitely gluten-free fish frys," he said. 
One in three adults are interested in gluten-free diets, and that has created a $4.2 billion industry. So his hook was perfect! 
But he also needed to understand the inner workings of TV newsrooms—who's who, how producers think, the kinds of stories they want, and the types of pitches they find annoying.
Do Your Homework
I suggested Tom read the dozens of pitching tips that TV producer Shawne Duperon shared with me more than a decade ago during the teleseminar How to Get on the Local TV News Tomorrow. That 27-page transcript, which I updated this month, is as relevant today as it was back then. It has helped dozens of Publicity Hounds get their stories onto TV, thanks to Shawne's tips.
Tom bought the transcript, read all 27 pages, and  got to work.
Shawne, who knows that busy TV producers are always pressed for time, recommended pitching an entire segment to TV producers, particularly for talk shows. Tom recruited Tessa Santoro of Cafe Perrin in Milwaukee, who had health problems because of gluten and had to eventually go gluten-free. Tessa created a wildly popular gluten-free fish fry for her patrons and agreed to do the interview with Tom, if needed.
Tom also arranged for Tessa's husband to provide three different types of fish fries as props for interviews.   
Create a Short Pitch
Tom wrote a short pitch with the gluten-free hook.
He also used LinkedIn and Twitter to connect with TV producers, assignment editors, anchors, and anyone he could find who worked at the stations.
He started calling and if he couldn't reach the right person, he emailed the pitch. Even though a few assignment editors said they were interested, no one said yes.
Don't Assume Silence Means 'No'
"On Tuesday night, the same day I started calling people, I'm sitting there in my living room and saw Carol Meekins, one of the anchors on WTMJ, talking about fish fries and my website!" he said. "I had no idea they were interested but, obviously, my pitch made it into the right hands."  
The TV station called him the next day and arranged for a taped in-studio interview.
He offered Tessa, his gluten-free friend, but the station declined, saying the studio would be too crowded.    
Instead, Tom took three fish frys as props. This is the segment that was aired on Thursday, March 6, the day after Ash Wednesday: 
WTMJ also owns a radio station, and somehow, Tom's pitch ended up there. The next morning, on Friday, "Wisconsin Morning News" with Jodie Becker and Gene Mueller interviewed Tom and Tess, emphasizing the gluten-free angle. You can listen to the interview here.
The publicity resulted in about 2,000 visitors on Friday of that week alone. Even though Tom lists restaurants for free, he monetizes the site by selling bigger listings with photos and other details for $300.
"If I had it to do all over again, I'd do two things differently," Tom said. "I'd start pitching earlier and I'd be a little more aggressive. But the publicity has given me the street cred and I feel confident that I can pitch any story."
But he followed the advice in the transcript and did enough things right that he got three media hits in just a few days. He explains:
Order the transcript of How to Get on the Local TV News Tomorrow.