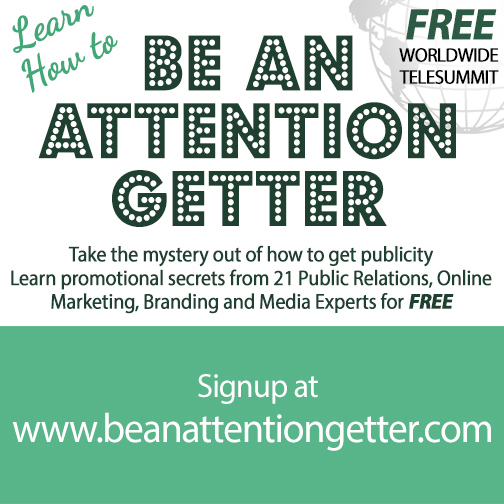 Set aside some time this month and next to listen to take advantage of three weeks worth valuable free training on how to get free publicity.
It's the Be an Attention Getter Worldwide Telesummit, hosted by PR expert Samantha Whittaker. She has chosen me as the lead-off batter on Monday, May 11.  I'm presenting on the most important elements that your 2015 publicity campaign must include. The 20 other experts will be featured one per day until June 1.
They hail from the worlds of public relations, online marketing, branding and media. Meet them here.
Isn't that a fabulous lineup? Register for the telesummit here.
Why Publicity is Important
Publicity is 100 times more effective than advertising. If the New York Times or even your local weekly newspaper writes about you, it's as though they're giving you their stamp of approval. The same with bloggers, newsletter editors, magazine editors, freelance writers, TV reporters, radio talk shows hosts and others. 
If your story is online, others can share it on social media. It comes up in search results. You can link to it from your website and social media profiles.
Publicity also helps build your platform, the online presence that others will be looking for when considering whether to do business with you.  If you're an author who wants a contract with a publishing company, they won't look twice at you without a platform.
What You'll Learn 
Here's what you'll learn during the telesummit:
How to develop focused promotional activities that will get your business noticed at the level you want it to be seen.
Creative ways to attract your target audience.
How to call attention to your expertise as well as to your products, services, books, projects and events.
How to create buzz through viral marketing.
The correct way to write a press release.
Secrets to mastering interviews with the media.
And so much more. I promise you this will be well worth your time. Hope you can join us.