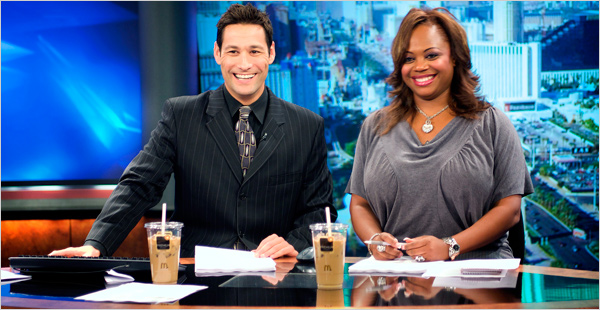 Here's another example of how the line between news and advertising is more blurred than ever.
The next time you're watching the news on your local FOX station, or on a station owned by the Meredith Corporation, look on the desk in front of the anchors. You might spot a cup of iced coffee from McDonald's, like the photo here that shows anchors—and a McDonald's iced coffee—at Fox station KVVU-TV in Las Vegas.
The six-month product placement is meant to boost advertising revenue.
"There was a healthy dose of skepticism, and I'm pleased there was — it means they're being journalists," said Adam P. Bradshaw, news director of KVVU, in a story in the New York Times.
Product placement typically has been left to movies and TV shows. (See "How to Get Your Consumer Product on the Sets of Movies and TV Shows.") But this is perhaps the first time a brand name product has appeared on the set of a TV news show. The anchors, however, are never seen actually drinking the coffee because the cups contain a fake fluid and fake ice to prevent the cubes melting.
What happens if there's an outbreak of food illness at McDonald's, or a nother bad news story?
Brent Williams, an account supervisor with Karsh/Hagan, says "I would expect the station would absolutely give us the opportunity to pull our proudct off the set."
I'd say that's a good prediction.