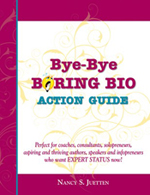 Boring bios are more potent than sleeping pills.
Yet you read them all the time in people's online press rooms, in their books, and even on the mini-profiles they write on their Twitter and Facebook pages.
Sometimes job-hunters include a useless paragraph of incredibly dull information on their resumes.
Publicity expert Nancy Juetten hates boring bios, too. The arrogant ones really get under her skin. They include sentences like this:
"Complimenting her extraordinary capacities as a prodigy composer of collaborative entrepreneurial masterworks is her former multi-disciplinary career as an entrepreneur and corporate executive, encompassing 34 years of exemplary achievement in well over twelve industries, including…"
She wrote about those kinds of bios at her blog, and  just created the Bye-Bye Boring Bio Action Guide ($49), which should be must-reading for every author, speaker, entrepreneur, coach, consultant and expert who needs to rewrite a bio or make over their current one, and for every job-hunter who really wants to stand out from the crowd.
It includes handy templates, examples of great bios, and work sheets that will help you inject life, fun and even humor into even the most boring bio. 
Nancy is running a special promotion that ended on Sunday. But she said that anyone who writes  "Joan Stewart" in the comments section of their online order form throughout the month of March 2010 can get an anniversary bonus gift, her Publicity Express Digital Workshop which is a package of audio files and other goodies. The bonus applies to the Bye-Bye Boring Bio Action Guide and her DIY Publicity Success System.  Order here.
Here's Nancy's own bio:
Nancy Juetten (rhymes with "button") is a passionate and engaging publicity trainer who shows business owners across America how to get seen, heard, and celebrated in their own backyards … and beyond.  She created the NEW Bye-Bye Boring Bio Action Guide to help job and publicity seekers wake up decision makers and open doors fast.  Her essential advice: "It's your story.  Tell it well."