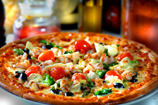 Deborah Lott of Giddings, Texas, writes:
  
"My husband and I opened a casual pizza and Italian restaurant in the small Texas town of Giddings, population 5,000, on Hwy. 290, a major highway between Austin and Houston.
   
"We have been open for only six months and are having a hard time getting local residents to dine here.  Money is tight so advertising has been minimal. 
"We are open to any and all ideas to help us keep our doors open. The first three months we were open, we were doing great, but this summer has been a hardship."
Have ideas for Deborah? Please share them below. And then email me you rown "Help this Hound" question.