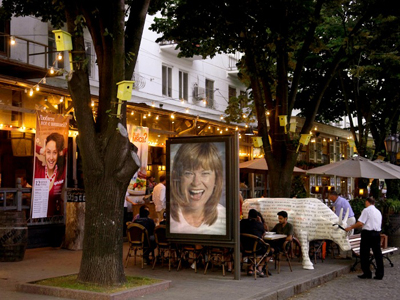 I found a very cool website where you can insert photos of yourself or others into other photos and create your own custom photos that really attract attention.
It's PhotoFunia.com. Insert your photo onto a billboard, turn it into a painting, or plaster it onto a big sign outside a sidewalk cafe, like a I did here.
Turn it into an Andy Warhol painting. Artists, this online tool is perfect for you because you  can actually make it look as though an artist is drawing your portrait. You can even use video to make it look like you're dancing , fanning yourself, or appearing on TV.
I don't think these photos are appropriate for publicity campaigns, or are they?
What are some fun ways you could use them for publicity, PR and marketing and in social media? Provide links to your own PhotoFunia photos so we can see how you've used them.  
We don't want to see only the photos. We want to know how you will incorporate them into your marketing or your blog or website.
Who knows? I just might include your photo in the next update of my ebook, "How to Use Photos & Graphics in Your Publicity Campaign."