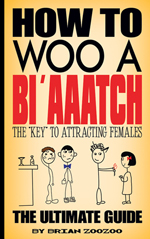 Roz Wolf of Los Angeles, California writes:
I have a fun but strange book title to promote.
"How To Woo A Bi'aaatch: The Key To Attracting Females" by Brian Zoozoo is a guide that speaks to a generation of single men and curious women aged 18-35. The word Bi'aaatch is slang for "a woman who is so beautiful she gives you goose-bumps" according to Brian.
We are targeting college audiences and general audiences with a book signing at a Barnes & Noble in Los Angeles Sept. 17. However, I find that some journalists totally get it when I pitch the title and some are turned off.
Can I ask your Hounds if they think the term "Bi'aaatch" is the problem? Or is the generation gap the problem? What other ways can I get publicity for the book-signing without relying solely on mainstream media?