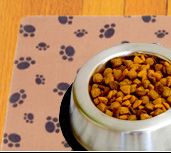 Jeanne Krieg of Savage, Minnesota writes:
"DryMate is a manufacturer in Minnesota with a line of absorbent and washable mats for home, pets, autos, hunting, garage and outdoors.  We even sell a mat that goes under your Christmas tree stand to catch spills, dirt etc.
"Since our product is made from a fabric with a bonded backing, do we want to reach textile editors of publications? Or category-specific editors? Or both? To whom do we send pitches and press releases?
"And can your Hounds suggest ideas on how we can pitch our product to either consumer or industry publications?