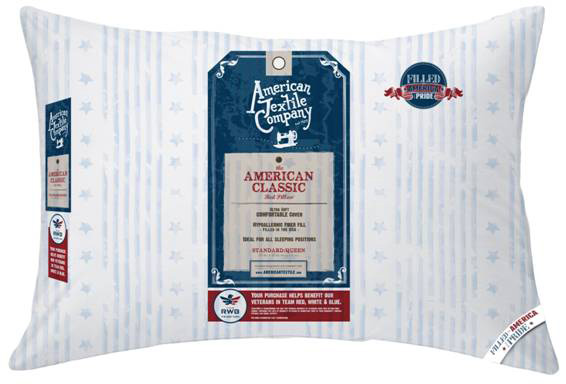 By Hollie Geitner
We frequently advise clients—using a statement coined by leadership expert Simon Sinek—that "people don't buy what you do, they buy why you do it."
It couldn't be any truer in the case of American Textile Company.
Last year, the company, headquartered in Duquesne, Pa., just outside of Pittsburgh, produced and sold 40,000 Americana pillows at retailers across the country. The pillows are part of American Textile's bedding line, which also includes its popular Aller-Ease® brand mattress and pillow protectors.
The Americana pillows are branded with a patriotic theme and are the same high-quality grade as American Textile's other products. What makes the Americana brand unique, though, is its mission and purpose. The pillows support U.S. veterans.
It's not just support for their heads as they sleep—25 cents of every Americana pillow purchase goes to Team Red, White and Blue, an organization dedicated to enriching the lives of veterans by connecting them to their community through physical and social activities. Here's a video that explains how Team RWB helps vets. 
American Textile's commitment to veterans is personal. Jack Ouellette, American Textile's former CEO and current Chairman, is a West Point graduate. His leadership has helped the company grow tremendously over the past two decades.
And here's an interesting historical tidbit about the company. In its early years, American Textile had 50 full-time sewers dedicated to manufacturing plastic buckles for gas masks and disposable bags for airplanes during World War II. It's a far cry from the pillows and bedding it makes today, but that work shaped the company and its mission.
To help tell this story, American Textile sought assistance from our PR firm, WordWrite Communications.
How We Did It
In discussions and brainstorming, we learned that the charity team running in the Pittsburgh Marathon for Team RWB would be participating in a "carb-loading" spaghetti dinner the night before the big race. Knowing the marathon buzz would be intense leading up to the race, this presented a fantastic opportunity for a program that the media might be interested in covering.
As we put the details together, we invited key local dignitaries to speak including a state representative and the county executive as well as veteran members of Team RWB. They joined leaders from American Textile.
The focus was not on the company but on the veterans—and this was by design. The story isn't about the pillow or American Textile. It's about how lives are changing for the better because of the support of corporations like American Textile.
Telling the Story
An engaging interview with a veteran member of Team RWB running in the marathon was translated into a short pitch shared with key contacts at local media outlets in advance of the marathon. The pitch tied his story of overcoming obstacles from service-related injuries and a struggle to re-engage with his community to American Textile's commitment to veterans and the company's public presentation of a $10,000 check to Team RWB.
The result was positive pre-event coverage, including the front-page lead story in the Pittsburgh Post-Gazette, a column in the Pittsburgh Tribune-Review and a drive-time radio interview and online story with KDKA Radio. KDKA-TV sent a cameraman to cover the event and Allegheny County Executive Rich Fitzgerald (@ACE_Fitzgerald) attended and sent a tweet of a photo of the check presentation to his 4,450+ followers.
The veterans and the charity runners received a pillow, compliments of American Textile. It's truly a great story and one that needed to be shared.
Why Telling Your Story Matters
A 20-year study of consumer attitudes, perceptions and behaviors around corporate support for causes confirms the idea that people don't buy what you do, they buy why you do it.
In fact, well-thought-out and strategically communicated cause marketing efforts have a measurable impact on sales. The 2013 Cone Communications Social Impact Study determined that 93 percent of U.S. consumers have a more positive image of a company that supports a cause, and 54 percent actually buy products associated with a cause and have done so in the past 12 months. That's a 170 percent increase from 1993.
As the report found, supporting a cause is no longer enough. With much more noise, and consumers inundated with messages across multiple platforms, companies must consistently and authentically tell their cause story to validate and prove it isn't just lip service.
The ultimate challenge is determining the best way to share the story with the most appropriate audiences and telling it in a way that is meaningful and memorable.
Go Beyond Donations, Sponsorships
In American Textile's case, their support of veterans through Team RWB went beyond simple donations or a sponsorship. Leadership fully committed by tying a product and its branding to the cause. They demonstrated proof through a public check presentation and told the story through a real-life beneficiary—a veteran.
The actual tactics aren't as important as the message and its authenticity. Today, consumers are much more cynical and can see through flashy stunts that lack true meaning. Sometimes the best way to tell your story is through someone else.
With appropriate guidance and the right timing, the story will resonate with those who matter most.
*     *     * 
This guest post was written by Hollie Geitner, director of client services for WordWrite Communications in Pittsburgh, Pa. Email her and follow her on Twitter. If your PR firm has a success story to share and you'd like to write about it here, read how to pitch a guest post for The Publicity Hound blog.