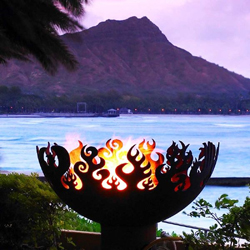 John T. Unger of Mancelona, MI writes:
"My fire bowls, original art which I've been making since 2005, have been copied by a manufacturer.  He is now suing me in federal court to overturn my existing copyrights and continue making knockoffs. 
"I have a strong case, a great lawyer and believe that if I can continue to defend myself, the case will be resolved in my favor. You can read more about it at my blog.
"I did not initiate this lawsuit, but am defending my art, my creative rights, my reputation and my livelihood.  I've already spent over $50,000 out of pocket in defense of my original designs.  Seeking a judicial ruling in federal court will cost more than most artists or small businesses can afford, but attempts at settlement have been unsuccessful.  I am holding a fundraising sale of my artwork to finance a defense in court.
"What ideas do your Hounds have for using traditional and social media to raise awareness of the story, its broader implications for other creative professionals and raising funds to see that the laws which protect copyright are not weakened for other artists?"
        
The Publicity Hound says: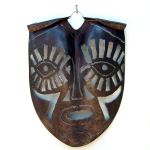 When John called me to ask for my advice on this, I suggested we use it as a Help This Hound question. He offered to send me a beautiful shovel mask ($59), artwork made from a recycled shovel, to thank me. I suggested we use it instead as a reward for the Hound who comes up with the best idea for his publicity campaign.       
Explain your idea in the comments section below. We'll take ideas for two weeks, and I'll announce the winner of the mask in my newsletter on Tuesday, Nov. 10.  Tweet this, and  share it with your Facebook friends.