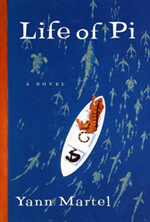 Google "books turned into movies" and here's what you'll find:
So what about your book? Could you sell it to Hollywood?
Yes you could. You could sell your story, too. You could even sell your message and have a production company turn it into a TV series. Here are six reasons why:
Video on Demand is the newest and one of the fastest growing markets in Hollywood, and authors would be crazy not to take advantage of this.
Hollywood is more dependent today on buying the movie rights to books.
"How-to" books are often perfect for being turned into TV series. Just look at the hundreds of programs on the air right now that teach people how to do things, from cooking gourmet meals to renovating old houses.
Thousands of cable stations and limited run movie releases rely on novel-length and short stories.
Companies that make TV movies want to know about personal and intimate biographies.
5 of the 9 Academy Award nominated films for 2012 started out as books!
If you want to know more, join Steve Harrison on a free teleseminar on Thursday, Jan. 31, and listen as he interviews a Hollywood insider on "How to Sell Your Book or Story to Hollywood as a Movie or TV show…Even If It's Self-published." Choose from the call at 2 p.m. Eastern Time, or the one at 7 Eastern. 
Get Started Right Now
You don't have to wait until Thursday to get started.  As soon as you reserve your spot on the call, Steve will send you a "Turn Your Book Into A Movie" worksheet that will help you write the perfect "Logline" for your book.  
What's a logline? You'll find out on the call. But it's one of the most important first steps you need to take if you want to get the attention of a Hollywood agent or producer.
Don't miss this one, even if you haven't written a book or don't want to write one. Remember that you don't necessarily need a book. All you need is a good story or idea.
Even though the call is free, I'm a compensated affiliate for Steve's company, which offers a variety of training programs and services for authors and authors-to-be.