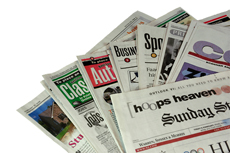 I usually frown on free press release distribution services for three reasons:
1. They seldom "distribute" anything. Instead, they park your press release at their website, to be found—or not—by the search engines.
2. You can't be certain that the releases are getting into the major news feeds unless you check. 
3. It's next to impossible to contact them if you notice an error, like a wrong telephone number, in your release after you've posted it to their site. So the incorrect release lives online forever.
Yet one of the most frequent questions Publicity Hounds ask me is: "Which free press release service should I use?"
I now strongly recommend you take advantage of the free press release service that comes with the free Press Room Page in the "Expert Book" at ExpertClick.com, published by Mitchell Davis of  The Yearbook of Experts, Authorities & Spokespersons. Register here.
   
  
What You Get with the Free Service
I've been promoting Mitch's paid service for many years because it allows you to post up to 52 press releases a year at no additional per-release charge. And if you notice an error in your release, you call his office. A human answers the phone and fixes the error. His releases are picked up by Google and LexisNexis. Until now, you had to pay for that service.
But not anymore. You get a very basic version at the "Freemium" level.
It gets you a News Room page, photo, profile and a link to your website. You can also post one free press release each month which will also show up in Google and LexisNexis.
Only the paid service has free telephone support. But theFreemium members are offered support via email with a 24- to 48-hour commitment to questions.  You can email support questions to mitchell (at) yearbookofexperts.com and the answers will be posted at their customer support blog. Mitch's staff will notify you to visit the blog to see the answers.
Other things you need to know about the Freemium level:
You're ranked in the topic lists and search results after the paid members, but you can include 39 topics for indexing.
These free accounts are supported by contextual Google Ads, on their profiles and news releases.
Freemium member accounts are not included in the printed Yearbook of Experts, Authorities & Spokespersons.
Inactive Freemium accounts may be removed from the system, when members do not send a news releases at least every 90 days. (I like this feature because it forces you to send releases several times a year.)
You can't edit news releases once they're sent, but you may cancel them.

The Paid Services
The other two membership levels are:
–Classic at $95 a month
–Club at $295 a month.
 
Paid members get telephone support at (202) 333-5000.
 
You can see the Member Handbook and the benefits you'll get by becoming a paid member. You can also see how to send a news release. (Full disclosure: I'm an affiliate, and get a commission on any sales that result from the paid services through my affiliate link.)
  
A Note for PR Pros and Publicists
Participants may only send news releases about their businesses. 
If you're a PR person who wants to send news releases about clients, you'll need to open additional unique accounts for them.
Why? Because the press room page system is what drives search engine optimization. That's just plain smart.
 
 
Press Release Success Stories from Expertclick Members
Child safety expert Debra Holtzman knows journalists love Top Ten lists, and she has been invited to be on the "Today" Show, based on her child safety tips.  
 Here's a sample of a recent Top Ten List News Release on Ten Life Saving Tips Every Mom and Dad Should Know.
You can see all of Debra's releases here.
 
Ed Poll adds his HTML subscriber newsletter and his subscriber opt-in form. He integrated his Constant Contact system into News Release Wire.
Here's an example of how he uses the archive feature in Constant Contact to get the HTML code, and then sends a news release using that code. And here's how Ed had added the HTML code to get more opt-ins to his email list in his Press Room Page. If you have an email system, you can do this too, by logging into your email account platform to create the HTML code and inserting that code into your Press Room Page. 
You can send many types of content via News Release Wire, not just news releases, and you can upload in many formats. They will push your content to your Press Room Page, via email, and to Google News and Lexis. Content can include:
News Releases
White Papers
Blog Content
Links to your website or subpages for SEO
Your email newsletter
Your opinions on news, many follow Google Trends to get ideas.
PDFs of your brochures. 
Hounds, this is a no-brainer. You'd be crazy not to sign up for at least for the free service.