If you're tempted to use a free Getty image in a blog post, at your website, in a press release, in a PR campaign, or any other way, understand the risks which could include legal problems.
Getty recently opened up its archives to allow 35 million of its images to be used for free. You can now visit their content library, choose an image and embed the HTML code on your website or share on social media. The image will be identified as a Getty photo and include the photographer's identification.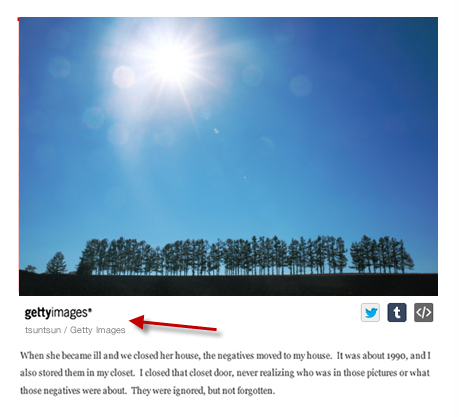 The image appears within an embedded player and includes full copyright information and a link back to the image's dedicated licensing page on Getty's website.
Read Getty's full instructions here. But within its Terms of Use is the caveat that images can be used only for noncommercial use. What, exactly, does that mean?
The British Journal of Photography quotes Craig Peters, senior vice president of business development, content and marketing at Getty Images, as saying bloggers, even those who make money from Google ads, can use the images.
"We would not consider this commercial use," says Peters. "The fact today that a website is generating revenue would not limit the use of the embed. What would limit that use is if they used our imagery to promote a service, a product or their business. They would need to get a license." 
Getty also has the right to include ads within the player, similar to the way ads appear on YouTube videos. That means the name of one of your competitors might show up on a free Getty image at your website.  
So before you grab an image to promote one of your books, a speaking engagement, a product, or anything else you sell, beware. If you're at all uncertain, consult an attorney.
Three of the big stock photo companies—IstockPhoto, Shutterstock and Bigstock—all offer free photos of the week as a way to introduce you to their offerings. Be sure to read their Terms of Service too.