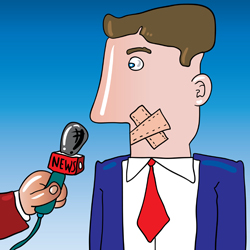 It starts innocently enough when you meet a reporter for lunch at a local restaurant.
You spend the first 10 minutes making nice, and then the reporter pulls a notebook and pen out of his pocket.
After the first few easy questions to put you at ease, he asks, "Is it OK if I record our interview?"
Don't freeze up. Don't freak out. Don't walk out of the restaurant. 
That question actually works in your favor because, with a recording, there's no excuse for inaccurate facts or quotes.
If the reporter records the interview, you should, too, so you have a record of it.
Here's a list of six voice-recorder apps for the iPhone. If you have a different type of phone, do a Google search for an app for your brand.
"Is it OK if I record our interview?" is one of 27 questions a reporter might ask you. I've included them all, explained how you should answer them, and noted which ones are trick questions, in my updated "Special Report #2: Questions You Can Expect Reporters to Ask During an Interview." (I worked as a newspaper reporter and editor for 22 years and I know all the trick questions.)  
The best surprise is no surprise.