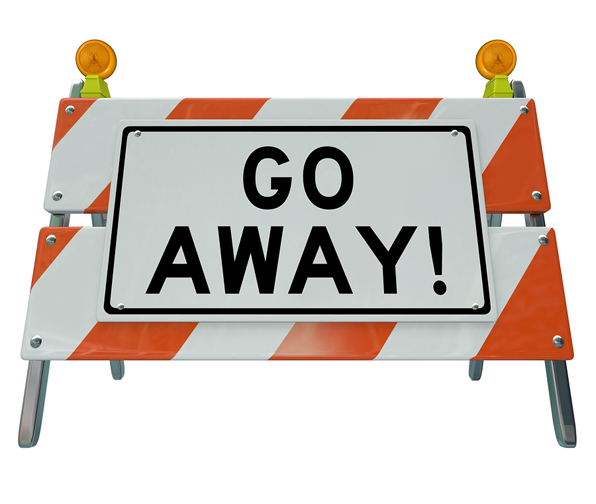 I love commenting at blogs and do so several times a week. I try to write succinct, well-thought-out comments. I double-check what I've written for typos. When I click "Post Comment" and see the box that tells me I must log-in, I bail out.
Why not just hold up a sign that says, "Go Away"? 
It happened again this morning at the blog published by the American Association for the Advancement of Science. Ian Campbell offered helpful advice on "How to Become a Science Celeb: Tips for Being Interviewed and Writing Press Releases."
He advised, correctly, to never ask journalists to read the story before it's published. I added this comment:
Ian, your tips are right on the mark. I'm a publicity expert who worked as a newspaper reporter and editor for two decades.
Even though scientists should never ask to see a story before it's published, it doesn't hurt to ask if the writer will call you to double-check direct quotes for accuracy. Not all journalists will agree to do this, but some will. I usually did if I had the time.
Tell the writer you understand that you don't have the right to change the quote if you don't like the way it sounds. But you're asking strictly to ensure accuracy.
I hit "Enter" and saw the dreaded log-in box. 
If you're forcing me to log in before commenting, tell me that before I start writing! Instead of logging in, I left in a huff, and I'm writing this.
Other Bloggers Grumble Too
This is a pet peeve, but I'm not alone. 
Veterinary journalist Lorie Huston writes about her disdain for log-in boxes, those annoying captcha codes, and  Livefyre. 
Livefyre's real-time apps turn your site into the hub for your community and curate live content from around the social web.
Some bloggers prefer Lifefyre and Disqus because they can add a social layer to their comments. Readers can follow conversations across multiple platforms, tag friends and alert them to the content, and accurately flag other comments as spam.  
I'm a Type A. The second I see the words Disqus or Livefyre near the comments section, I'm out of there. So are those apps worth enhancing the commenting experience for your fans even though they're driving other readers away?  
What Do You Think?
Bloggers, do you force your readers to comment?
Blog readers, I hope you weight in, too, in the Comments section. Do you take the time to log in, or are you like me?