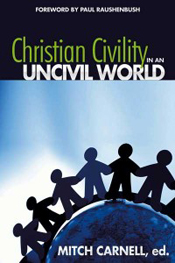 Mitch Carnell of Charleston, SC, writes:
"My book, Christian Civility in an Uncivil World, has just been published and I need help promoting it.  The other contributors from different denominations are all much better known than I am.
"The publisher sells mostly online and relies on distributors to get it into bookstores and on Amozon.  The book is great for small group discussions in churches and college classes.  Each chapter can stand alone.  My chapter on "The Power of Words" brings everything together. 
"Paul Raushenbush, associate dean of the Princeton University Chapel, wrote a dynamic foreword.  I am doing all of the normal book publicity tasks but I need some breakthrough help. Can your Hounds offer their best ideas on how to market the book?"
If you need help with a publicity or social media problem, email it to me and I'll consider posting it here and including the link in my weekly ezine, The Publicity Hound's Tips of the Week. Selected comments will appear in the newsletter the following week.