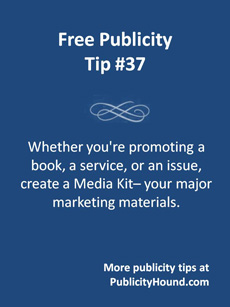 Your book's media kit is the major marketing package that tells a variety of audiences about the book, and makes it easy for them to report on it or promote it. 
Yet many authors are confused about what goes into the kit. If you've written more than one book, you should have one media kit for each book. But some of the materials in all those media kits can be the same, such as your author bio. 
Here are the eight essential items that every media kit should include, with tips on how to create them:
1. Author Bio
This is actually a series of four bios, written in different lengths to make the media's job easy. If you provide only one long bio, journalists and others who need just a short paragraph about you must wade through your bio, find what they need, and write it. This slows them down. And there's no guarantee that what they write will be accurate.
Include an "Author Bio" sheet with bios, all written in the third person, in these four sizes:
Two-line bio. This should be 140 characters which, coincidentally, is the maximum size of a Twitter status update. Why so short? Because if someone wants to tweet a description about you, you've already written it. Also, a two-line bio might be all you're allowed in the author resource box if you write an article for a magazine.
Short Bio (50 words). This is ideal for longer author resource boxes. Concentrate on your expertise.
 Medium bio (100 words). Include everything in the short bio. Include your most noteworthy accomplishments.
Long bio (400 to 600 words). Write an overview of your life and writing career. Include everything in the medium bio. You can use this to tell a story.
Speaker introduction. This is very helpful for meeting planners and others who invite you to speak. Never let them write your introduction. Insist that they read the one you provide. Write up to 300 words.
5 Fun Facts You didn't Know About Me.  These can include trivia from your personal or business life, unusual hobbies or travels, or anything that will give readers a glimpse into your personality. You can write more than five, if you wish.
2. Book Synopsis
Write these all in the third person, in four different lengths: a two-line summary, short, medium and long.  Take your time to consider the full scope of the book before writing each synopsis.  
Consider what the book has to offer, the most compelling parts of the story, or the niche the book serves.  Write short and pointed sentences that are appropriate for a general audience, and pitch your book in as few words as needed.
3. Press Release
Include contact information, a headline and subhead.
Start the most interesting aspect of the book and explain what the reader will learn.
Include a quote from the author. It can include why you wrote the book, what you hope readers will learn or advice included in the book.  Include a call to action with a link to a website where readers can buy the book. 
4. Sample Chapter
Choose a chapter that reflects what the book is about. You an include a link to a Table of Contents and Amazon reviews. 
5. Interview Questions
Most journalists, broadcasters and bloggers who want to interview you will not have time to read your book. That's why they will welcome a list of interview questions. They won't necessarily limit the interview to those question, but the list will provide a handy springboard that will help them start the conversation.
6. Contact Information
Include a sheet that tells people every way possible to contact you: by office phone, email, Skype, and links to all your social media profiles. This may well be the most important item in your media kit. If you're mailing copies of your book to reviewers, it's a good idea to slip a copy of your press release and the contact information sheet into the book.
7. Book Review Excerpts
You should be asking for book reviews before you launch the book. When you get them, choose excerpts from the best ones and compile them onto a sheet along with basic information about the book. These excerpts might sway a journalist to write about you. Or they might prompt someone to buy your book and maybe even write a review.   
8. Photos
Include links to high-resolution head shots and a few environmental shots that show you in a variety of settings. For example, a cookbook might include photos of her in the kitchen, whipping up a favorite dish, or shopping at a local farmer's market. Small newspapers, newsletters and bloggers will welcome these photos. You will also need a photo of your book cover.  
Here's a good example of an environmental photo for bestselling author Edward Vilga's media kit. He is the author of Downward Dog and Yoga in Bed. The photo of Edward and his dog, Belle, was taken by Jonathan Pozniak.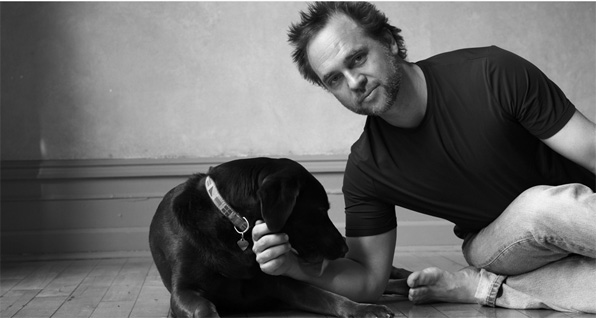 Templates to Help You
All of this content has to read well and look good. This is where many author media kits fall short.
Book publishing expert Joel Friedlander and I have worked with hundreds of authors. We know the types of questions they have about book publicity and, especially, media kits. That's why we created a series of helpful templates that remove the mystery and guesswork from creating these materials.
"Quick & Easy Media Kit Templates for Indie Authors" is the only product of its kind that removes the expensive, huge time commitment and worry from creating a media kit. 
It includes:
A package of 8 PDF documents that are pre-formatted templates for the eight most important items mentioned above.
Another 4 templates for items that will come in handy during your book marketing campaign. You don't have to include all these in your kit, but you will need them when approaching national retailers, book stores, book reviewers and when you sell books at events like book signings.
Full instructions on how to use the templates, including samples of every template so you can see how the materials should look when completed. The templates include black text (where you will place your own copy) and red text (tips from me on how to write it.)
Rave Reviews from Authors
Here's a sample of reviews we've received for the templates:
From Marjorie Turner Hollman, author of Easy Walks in Massachusetts and a journalist for 17 years:
"I put your suggestions right to work and am finding that I need exactly what you described as I reach out to venues to promote my new book…I was lacking the important pieces you recommended. For those who feel unsure about writing a press release, bio, a blurb or a speaker introduction, buy the templates!"
From Author Barbara Lyons Stewart (no relation):
"You have saved me weeks and weeks of time doing things just one step at a time–and losing motivation because with that process I always feel that 'I am missing something.' I listened to your webinar and purchased your program as soon as you signed off (as any listener with an ounce of good sense should have done)."
From Edward Vilga, bestselling author of Downward Dog and Yoga in Bed:
"Joan Stewart's QUICK AND EASY MEDIA KIT TEMPLATES reflect her media savvy, no-nonsense approach to PR success for authors. Her clear explanations and pre-formatted templates are a terrific time-saver and guarantee a professional, effective publicity campaign."
From Dr. Marlena Corcoran, author of an International Student's Guide to Getting into Top U.S. Universities:
"I love the templates, and the concept of a complete template book. The templates are truly paint by numbers!"
From Author Melanie Abed:
"You have no idea how grateful I am to have access to this kind of material. You have helped cut my stress in half!
You can see what the entire package of templates includes here.