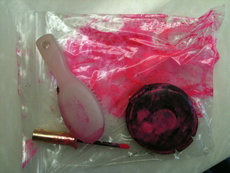 Pitching yourself to TV talk show bookers or your local TV news directors, and convincing them to say yes, just seems like the hard part.
It really isn't. The far more difficult task is knowing how to respond to the many emergencies that can pop up from the time you're booked to the second you walk out of the recording studio, after the interview.
Here are seven emergencies to prepare for if you're doing broadcast interviews.
     
    
1.   You haven't left enough time to do your hair and make-up.
Earlier today, I was schedule to appear on a live webcast with Don Crowther, the creator of the Social Profit Formula 2.0, a social media course I highly recommend. I'm one of several people he interviewed about our successes with social media. We were supposed to do the interview at 3:40 p.m. in San Diego. I was to come to the studio at noon to be briefed.
That pink mess you see above is what I saw about an hour before I was to meet Don. My tube of liquid lipstick cracked, or the top came loose, en route to San Diego.
Most of my make-up was swimming in the bright pink goo, and I didn't notice it until I pulled a bottle of liquid foundation out of the small plastic bag and ended up with stained fingers.
During interviews, I frequently talk with my hands. Would the several thousand people watching the webcast see my neon pink fingers as I wave my hands in front of me? Or would I have to sit with my hands planted firmly in my lap?
Luckily, I was staying with Christine Buffaloe, my virtual assistant, who lives about 10 minutes from the recording studio. She retrieved nail polish remover. But as I was rubbing like mad, the toilet paper I was using to apply it kept crumbling.  Chris found a clean rag. Within about 10 minutes, the stains disappeared. But it was a hassle I didn't need.
A hair and make-up emergency can also occur when your stylist calls you the morning of the interview to cancel because she's ill, and you can't find another stylist who can take you at the last minute.
   
  
2. Traffic is backed up on a major road you've taken to the TV studio. You won't make it on time.
Leave enough time to deal with closed roads, freeway back-ups, detours and bad weather like ice storms.
Do you have enough gas in your tank? Check the night before the interview.
If it's in the dead of winter, do you have a back-up driver you can call if your battery is dead and you have no other way to get to the studio?
   
  
3.  You learn the day of the interview that the clothes you had planned to wear don't fit.
Nothing is worse than taking your favorite silk suit out of the closet three hours before you're to arrive at the studio, only to learn that it shrunk after it was dry cleaned.
Wardrobe emergencies include missing buttons and no appropriate shoes to wear with your outfit.
A few days before the interview, dress yourself in the clothes you plan to wear, including all matching accessories, so you aren't hunting for them at the last minute.
   
  
4.  The TV producer calls you and asks if you can come to the studio an hour early because someone  who was scheduled to be on the program before you has cancelled.
Always leave extra time the day of the interview just in case this happens.
     
    
5.  The talk show host who's interviewing you cuts short the interview. It was supposed to be five minutes. But it's only a minute and a half because a previous segment ran too long.
Whatever you do, don't complain! Be gracious. And send a handwritten thank-you note to the host and to the person who booked you.
     
    
6. The interviewer asks you a question you can't answer.
This isn't really an emergengy, but you might view it as such.
The best thing to do is to simply say "I don't know," and then bridge to your key message.
But why not be prepared? Ask the interviewer beforehand for an idea of the questions you'll be asked. Broadcasters don't mind doing this, unlike their brethren in the print media who hate "prepping" interview subjects.
    
    
 7. The interviewer fails to hold up your book and mention it on camera, after telling you that she would.
Don't refer to your book. Just answer her final question and look like you're enjoying yourself. When the interview is finished, thank her.
Authors who have upstaged their hosts, particularly pushy authors who mentioned their books,  have been blacklisted.
If you've done TV interviews and you have more tips to add to this list, share them here.
  
Have I missed any emergencies? Comment below.