Quick. Find your media hit list—the list of media you have pitched recently either for your own story idea or one for a PR client.
Now, scan the list. I'll bet you a bag of dog treats that the Associated Press isn't on the list.
That news powerhouse is frequently forgotten by PR people. Yet the AP was ranked first in terms of how often their reporting is cited on Google News and Google Blogs. This chart was compiled by Nate Silver, a New York Times blogger who loves analyzing statistics: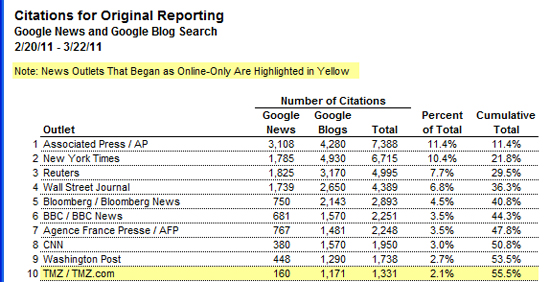 The Times is the most-cited news outlet after the AP, and it's the most linked to by bloggers.
Take these statistics with a grain of salt. While the Times is ranked second, remember that circulation has plummeted.
I found the chart eye-opening from a PR perspective, and many times, I've reminded Publicity Hounds that they should remember to pitch the AP.
Neither privately owned nor government-funded, the AP is a not-for-profit news cooperative, owned by its American newspaper and broadcast members, and much of the content it distributes comes from its members.
Two-thirds of AP's worldwide staff are newsgatherers.  Journalists staff every statehouse in the United States.
Tips from AP Editors on How to Pitch
Here's a helpful video in which Jon Resnick and Donna Cassata, two AP editors, share tips on how to pitch:
What they don't mention is whether to pitch by phone or email. That depends on the urgency of the story.
For breaking news, call them. You can find AP contact information here.
If you have a story of regional significance, send your idea to a local AP bureau.  The AP has a bureau in every state.
Where to send a Press Release
If the story has national or international significance, email. Do not send attachments.
You can also mail your press release to AP's General/National Desk or International Desk at Associated Press, 450 W. 33rd St., New York, NY 10001.  Be sure to include a return address on your envelope.
To send press releases to specific departments, consult the list of Beats, AP editors and Writers, and your release will be fowarded to the appropriate party.
Remember, the AP likes its own stories, just like all other journalists. So pitching your state AP office can often give you a better return on your investment than simply pitching the story to your local daily newspaper. Your local paper might or might not offer the story to the AP.
Don't forget to follow up after you pitch. Jill Lublin offered a list of failproof ways to follow up with reporters after sending a pitch or a press release.
Have you pitched the AP and gotten coverage? What were the results? Any other tips for pitching the AP?