The crazy coloring book craze is the perfect opportunity to piggyback onto this trend and drum up a little publicity for you and your business.
You can do this two ways.
You can pitch journalists and bloggers with a story idea that ties into coloring books and your area of expertise. I've given you lots of ideas below.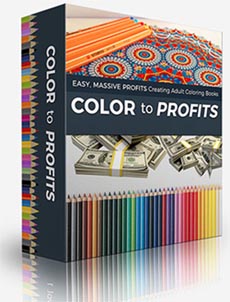 Or, you can create your own coloring book using the Color to Profits book design kit (affiliate link). It's a package of 50 beautiful designs that allows you to create your books using Microsoft Word or Open Office. The images are delivered as 300 dpi print-quality PNGs and JPGs, 8 by 11 inches, with full republishing rights. 
If you want to brand the coloring book for your business, go over to Fiverr.com and hire a graphic artist to create a few coloring book pages that tie into your topic. Most adult coloring books are 15 to 20 pages. You can use some of the designs in the Color to Profits package for the remainder of the book.  
Coloring Books for Grown Ups: Big Business
If you're thinking: "What do coloring books have to do with business?" Plenty! 
In November last year, Time magazine wrote about how Crayola Now Has Coloring Books for Adults. In its March 3 issue this year, Time devoted the entire book section to adult coloring books.  
Forbes magazine wrote an article under the headline "The Adult Coloring Craze Continues and There Is No End in Sight. Crains Cleveland Business wrote about them when David Bowie's ex-wife created a poetic coloring book and offered to donate some of the sales to a local nonprofit.    
There's even a blog called Coloring Book Addict that reviews coloring books.
Here are my ideas on how Publicity Hounds in almost any industry can piggyback onto this topic for free publicity.
Artists
Are adult coloring books a satisfying way for adults to create their own artwork if they're creative but they can't draw? If they really love this form of relaxation, might they try their hand at something more free form?
Do you color from these books when you just don't want to create your own works? Or would no artist be caught dead doing anything like this?    
Attorneys and Accountants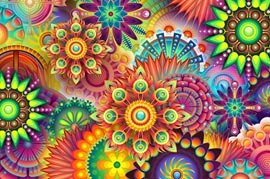 If I worked as a reporter and heard that a local law firm or accounting firm had supplied its snack area with coloring books and colored pencils so busy professionals could try their hand at artwork, and de-stress, I'd cover the story in a second.
This idea works well for almost any business. But I'm suggesting it for attorneys and accountants because they usually find it so difficult to come up with ideas for publicity. This can also be an usual recruitment and retention tool.
Here's another idea for intellectual property attorneys. If someone buys a coloring cook, colors the picture, and uses it as the cover to a product they're selling—like a T-shirt or a CD—what copyright laws must they be aware of?  
Hospitals, Clinics & Doctor's Offices
Don't let family members sit around your waiting room worried and bored. Let them color.
This could be a fun activity for patients and the friends and family members who come to visit. There isn't much else to do except listen to the patients talk about lousy they feel.  
Pitch this to reporters who cover the hospital beat, and to your local TV stations. 
Yoga Teachers and Mindfulness Experts
Do you tell your students and clients about this creative way to relax and have fun?
It seems like a logical activity to pursue when I come home from yoga class and don't feel like working or watching depressing news on TV and ruining the serenity I experienced in class.
What do you think of the large selection of coloring books centered on obscenities? Can The Swear Words Coloring Book, complete with the one-finger salute on the cover, really make people feel better?
This story is perfect for National Public Radio.
Garden Centers, Flower Shops & Any Type of Gift Shop
Are you stocking a variety of adult coloring books on flowers? I found dozens of them at my local craft stores! 
How are they selling?
Are people asking for coloring books on specific types of flowers? Is there any demand for books on vegetables?
Fun Idea: Sponsor a quarterly coloring contest for your customers. Ask the public to vote on the entries. Award gift certificates to the winners.
Encourage customers to share their works of art on social media and spread the word about the contest.
Social Media Experts & Photographers
What's the best way to share your finished artwork on sites like Pinterest, Facebook or Twitter? Do you scan it and then upload it? Or just shoot it with your phone camera? Any special photo techniques that will improve the quality of the photos? Any tips for lighting?    
Therapists & Marriage Counselors
Explain the therapeutic benefits of coloring for harried, stressed, busy adults. Is it an ideal hobby for a couple that needs to improve communication and spend more time with each other? Or for parents who want to spend time more time with their teenage kids?
I can't envision teens coloring. But if yours do, and media attention wouldn't embarrass them, you've got a story to pitch.
Nursing Homes & Adult Day Care Providers   
Do you offer coloring books for your patients and clients? If so, consider having an art show and open house. Invite local media.
Does coloring have any benefit for people with dementia or Alzheimer's?  
Craft Stores & Frame Shops
Give free classes at your store or in the community showing people how to frame their works of art inexpensively.  Would the local adult ed program let you teach a class on adult coloring books? Hands-on, of course!
Professional Organizers
All those crayons, colored pencils and markers can turn into an ugly mess if they aren't returned to their proper containers. But that can take too long.
Do you recommend specific products for keeping craft supplies organized quickly?
What about folders or other products for keeping finished artwork stored neatly?
Dating Services
Have people started mentioning in their profiles that coloring is one of their favorite forms of relaxation? It's such a big craze that I wouldn't be surprised if they do.
Churches & Synagogues
Pitch a story about how your parishioners are using coloring books to learn about their religion. You'll find coloring books on uplifting Bible quotes, Jewish quotes and customs and Islamic names, phrases and patterns.
Do you have a coloring activity for adults at your church?
Pet Stores, Veterinarians & Zoos
Do you stock adult coloring books? Which ones are the most popular?
I found a wide variety of books on dogs, cats, reptiles and zoo animals.
Authors: Publish Your Own Coloring Book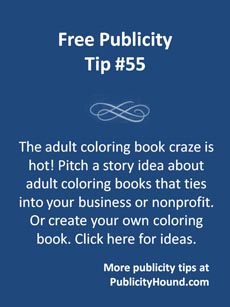 Coloring books are the perfect spin-off product for fiction and nonfiction authors. 
Publicity Hound Flora Brown wrote a guest post for the Where Writers Win blog on how authors are creating coloring books that tie into topics in their print books and ebooks.
If you're too close to your topic, just hop on over to Amazon and do a search for "adult coloring books" + [your topic]. For example:
Art Nouveau Fashions (my favorite type of coloring book) could tie into a book about anything related to Art Nouveau. Or it could be published by a fashion expert.
Classic Cars of the Fifties and even The History of Trucks would be a nice spin-off product for an author whose fiction includes a car or truck that's a prominent part of the story.  
Have my ideas sparked any of your own? What publicity ideas do you have for other businesses or nonprofits? We'd love to hear them.
Do you color? If so, from what kinds of adult coloring books?