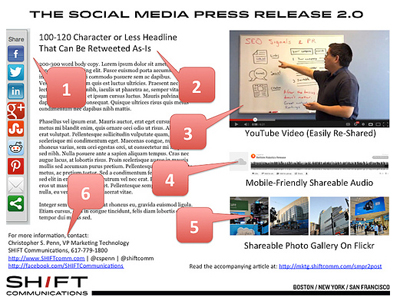 Press releases aren't dead.
Two decades ago, we used them primarily to generate publicity through traditional media. 
But these days, smart Publicity Hounds use them to reach consumers directly and pull traffic to our websites. The social media press release also makes it easy for bloggers and others to share our news quickly via social media through the social media press release.
The topic is important because each year, people spend millions of dollars on PR pros who write press releases, and millions more on press release distribution services. An effective release, which you can write yourself, can bring traffic galore but only if you use it correctly. And if the media covers you? Well, that's just gravy.   
Here, then, are the seven best articles on the "new" press releases.
How to use the Modern Press Release from Copyblogger.   
How to Use Online Press Releases To Bring Visitors to Your Nonprofit Website from Search Engine Land.
5 Reasons to use Press Releases to Promote Your Blog from PRWeb for ProBlogger.
Optimizing Press Releases: SEO is Now About Natural Writing, Social Sharing & Interesting Content from PRNewswire.
5 Reasons You Must Promote Your Press Releases from The Publicity Hound.
The Difference Between Social Media News Releases & Traditional Press Releases from PRNewswire.
The New Rules of PR: How to Create a Press Release Strategy for Reaching Buyers Directly from David Meerman Scott.
(Also see Press release, news release or media release?)
Now, Add Yours 
Did I miss any? Add your favorite to the list in the Comments section.