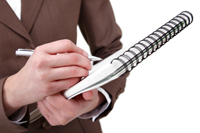 If you're lucky enough to be hiring a PR intern this summer, don't fall into the trap of letting them learn on the client's nickel.
There's a good discussion at the Get Social PR blog where Rodger Johnson, a PR counselor and blogger, argues in favor of letting interns pitch, with supervision.
"Interns need to learn how to pitch and the best way to do that is to pitch," he says.
I disagree.
Here are seven reasons why interns shouldn't be pitching the media:
Pitching is difficult enough for PR people who have been doing it for many years. It's the one skill that takes most professionals several years to learn, and several more to hone.
Most interns, who don't know the client's company intimately, are ill-equipped to answer a reporter's question about the client. An intern who's caught off-guard might not know how to respond, particularly if the question deals with a bad-news situation on a topic that's a lot juicier than the topic of the pitch.
Put yourself in the client's place. What would you think if you knew that an amateur college student was representing you and your brand in front of the media and bloggers?
Guarding and protecting the client's reputation is a lot more important than letting an intern stumble and fall and "learn from the experience."
Pitching is all about building relationships with the media. Interns typically arrive in May or June and they're gone by September. Work on building the relationships between the media and YOU.
Am I wrong?
Do you let interns pitch with supervision? What kinds of results have you seen? And what do you tell your client about the process?