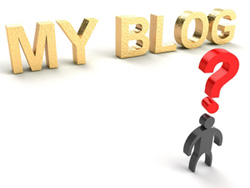 If you aren't blogging yet, or you're looking for shortcuts to save time and blog more frequently, here are three ideas to get you started:
    
1. Can't write? Then talk!
 Too many people don't blog because they can't write, or it takes them too long to write well. The solution? A small tape-recorder.
When an idea strikes, simply dictate your blog post into the recorder. Then transcribe it yourself or hire an inexpensive assistant to transcribe it for you and post it to your blog.
Also consider using voice recognition software. Dragon Naturally Speaking turns your voice into text three times faster than most people type, with 99 percent accuracy. I haven't tried this product, but I know people who have, and they rave about it.

2.   Recruit guest bloggers.
Most of your blog content should be your own.
But you can recruit guest bloggers occasionally to fill in when you'll be on vacation, taking time off, suffering from writer's block, or when you simply want to expose your readers to another viewpoint. Blogger LinkUp links bloggers who want to write guest posts with bloggers who need them. 
      
3. Recruit others on your team to blog with you.
Don't carry the entire load on your shoulders. If you work for a company or nonprofit, ask fellow employees in your own department or other departments to contribute to your blog occasionally by writing their own posts. Be sure to include their photos.
If you're a sole proprietor, ask your virtual assistant, or a vendor, or business associates to write on a topic that would interest your target audience. They'll probably be thrilled to receive the exposure.  
If you like these tips, you'll love the teleseminar on "Time-saving Tips for Smart Business Blogging" at 4 p.m. Eastern Time on Wednesday, Jan. 20, with blogging expert Patsi Krakoff. Everyone who registers will receive a handout that includes 77 ways to find content for your blog, and simple formulas you can use for better, faster blog writing.
If you're participating in the teleseminar, bring your questions for Patsi. If you can't attend, you'll get the MP3 recording the next day.
Make 2010 the year you finally commit to blogging and pulling tons of traffic to your website.  
What time-saving tips do you use to make blogging go faster? Share 'em here. (Shutterstock photo)