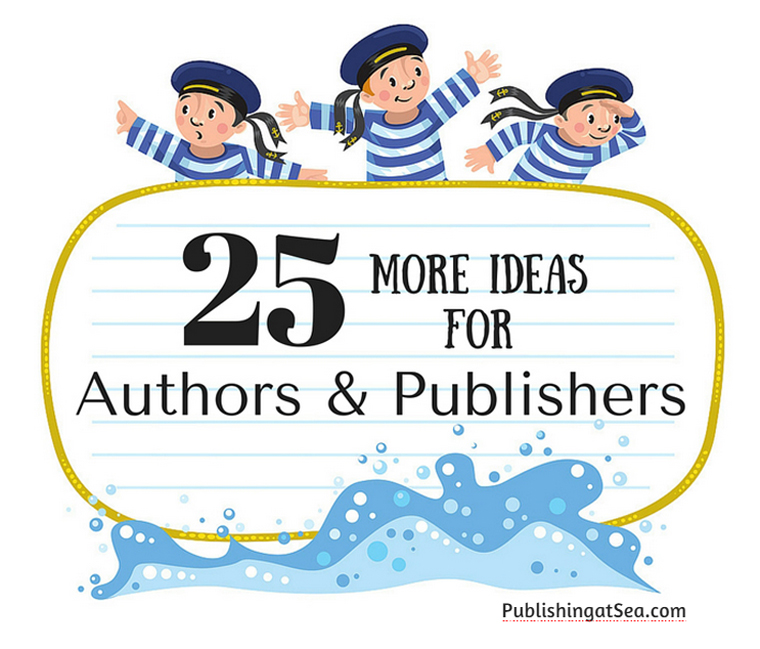 If you're an author or publisher who struggles with any aspect of getting your book to market, take advantage of a chance to learn from me and four other publishing pros at a free webinar at 7:15 Eastern Time on Wednesday, Sept. 2.
I'm one of the hosts, and I'll be joined by book shepherd Judith Briles, book distributor Amy Collins, book designer Joel Friedlander and virtual assistant Kelly Johnson. 
We want to help you because we love authors. We also want to whet your appetite for the third annual Publishing at Sea cruise we're hosting Jan. 24-31 to the Caribbean aboard Royal Caribbean's luxurious "Allure of the Seas." 
During Wednesday's free call, we'll each share five killer tips. We're even leaving time for questions at the end. Claim your free seat here.
We'll also tell you about the few remaining cabins for January's cruise, and how you can join us. Ports of call include Jamaica, Haiti and Cozumel. We sail from Fort Lauderdale, Fla.
Explore on Land, Learn at Sea
When we're in port, most of the day is yours to explore. You can leave the ship for the shore excursions, or shop in the areas near the ship, or stay on board and swim, nap, read or eat.  
On our cruise last January, we went zip lining at Loterie Farm in St. Martin. Here's author Cheryl Obermiller, aka The Pothole Queen, on the zip line, coming in for a landing:
The ship is fairly quiet when we're in port—an opportune time to write another chapter or two if you don't want to go ashore.  
On the days when we're at sea, it's class time. Here's what you'll learn if you join us on the cruise:
The most professional way to get your book to market and make the most money possible not only from the book, but from consulting assignments, speaking engagements and spinoff products.
How to promote your expertise as a nonfiction or fiction author.
How to build a huge platform online, an absolute necessity if you want to attract thousands of readers.
Tools, tricks, gadgets and gizmos to help you, with an emphasis on FREE. All five of us know the best websites, apps and resources.
Our best advice during one-on-one sessions with me or any of the other faculty members on the cruise.
Any topic is fair game as you enjoy dinner with us, lounge with us at poolside if you choose, join us for shore excursions, or discuss your publishing challenges over a drink or a snack. (Did I see there's food everywhere on the ship?)  
You can see the entire class schedule in the right margin here. 
Sign up for Wednesday's free call, "25 More Awesome Author & Publishing Tips from the Pros." Bring your questions about book publishing.
"]
And consider joining us on the cruise, a perfect change to combine your professional development as an author with a relaxing middle-of-winter vacation.