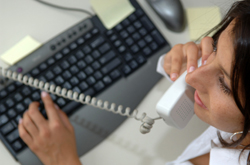 If you've hired a virtual assistant to help with your publicity campaign, or for any other tasks you don't like to do or don't have the talent to do, Tough Love & Accountability, or Four Golden Rules for Working with Your Virtual Assistant is must reading.
Denise Aday of Aday VA Solutions, a Dallas, TX based virtual assistance firm, reminds us to:
1. Pay bills promptly.
2. Respect procedures that our VA has put in place
3. Remember that we are the VA's client. The VA is not our employee.
4. Communicate, communicate, communicate. That means picking up the phone and calling my own VA, Chris Buffaloe of Serenity Virtual Assistant Services, if I get the feeling that our email communication just isn't working. She does the same. 
If you haven't hired a VA yet, what are you waiting for? During the telseminar I conducted on "How to Hire a Virtual Assistant to Help with Your Publicity Campaign," VAs Cindy Greenway and Diana Ennen, both excellent VAs, said the VA and the client are responsible for building the relationship. They stressed that VAs must set boundaries right at the beginning and let clients know when they can and cannot call, when they are available to work on projects, and how much lead time they need.
Publicity Hounds can hire VAs to write press releases, update their online media rooms, manage social networking duties, and write how-to articles.  
A tip of the hat to Chris, my VA, for alerting me to this. (Chris, are you trying to tell me something???)