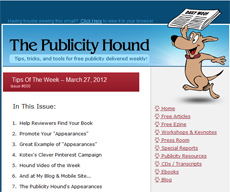 Nothing is more frustrating for an ezine editor than to hear, "What happened to your newsletter? I used to get it and I loved it! But I haven't gotten it for about six months."
During the 12 years I've been publishing The Publicity Hound's Tips of the Week, I've heard that repeatedly. And I'm hearing it more often.
Many readers tell me that if they don't have to read my miles-long newsletter when they receive it on Tuesday afternoon,  they move it into a folder in their email program. Later in the week, they return to it when they have time to read my DIY publicity tips. Or not. 
That means the ezine languishes in a folder, unopened.
I "clean" my list regularly and remove email addresses from readers who haven't opened the newsletter or other emails for several months. A few months later, a former subscriber who has been dropped from my list realizes he misses the newsletter, so he contacts me. I can't tell you how many times that's happened! That's one reason I've decided to cut the size of the newsletter in half and publish it on Tuesday and on Saturday.
   
   
Why Saturday?
Testing has shown that more people open email that's sent on Saturday than on any other day of the week. Because most of my subscribers are reading it at home, they aren't as rushed as when they're at the office.  Instead of seven or eight items each week, I'll have only three or four.
My list of blog posts, with links, will appear on Saturday when you have more time to read them. So will the Help This Hound question, so you'll have more time  to offer your best ideas. Help This Hound is the popular feature in which readers submit a question about a publicity or marketing dilemma. I post it here, and other readers comment and offer ideas. If you have a question, please to email it to me.   
By popular demand, the ezine will also include a dog joke or video twice a week. My Hounds wouldn't have it any other way. 
Giving you a shorter newsletter twice a week will increase the odds that you'll read all of it instead of moving it into a folder, never to be seen again. It will also help ensure that you don't drop off my list.
I hope you welcome me on Saturday, too. Thousands of loyal Publicity Hounds have helped me build a large community of readers who are much more valuable to each other than if I were the only one offering advice.
So what do you think? Good idea? Bad idea? Will you read it twice a week? Comment below.