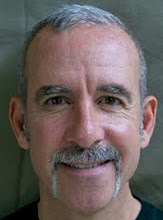 By the time Jim Hopkins left his job as a reporter and editor for USA Today on Jan. 10, 2008,  he had already built up a respectable following at the snarky blog he published about his employer, Gannett Co., anonymously.
Called simply Gannett Blog, it kept employees of the largest newspaper company in the United States up to date for two years on almost any work-related topics, from executive compensation and ad rate increases to ethics issues and the revolving door at individual papers.
In an industry pummeled by shrinking ad dollars, a dying reader base, and competition from online news sources, there was no shortage of topics. But there was no gossip, no inside dirt, no office politics—and no "official" affiliation with the company.
Instead, Hopkins relied on published reports and information he uncovered from public documents. His loyal readers provided a steady stream of leads and tips, most anonymously. 
The day after he took a buyout and a 40-week severance package, Hopkins identified himself as the writer of the blog. He kept commenting on everything Gannett and providing updates on budget cuts and layoffs. The sources kept surfacing. The blog kept growing.
  
  
But Who Will Pay the Bills?
When the severance ran out, it was time to start asking readers for donations. That first year, Hopkins set a goal of $6,000 revenue per quarter from the blog.
At first, the donations  trickled in. Some included notes. Many arrived as cash in his mailbox with no indication of who had sent them.
Thinking he was a tad too overly ambitious, he revised his quarterly goal to $4,000 and surpassed it in 2011. He made $5,000 in donations and $11,000 in Google Adsense revenue.
He accepts cash, checks and recently started accepting PayPal payments. You can't help but notice the little photos of credit cards placed under PayPal's "Donate" button on the right side of his blog. He even encourages recurring payments for people who don't want to hassle with multiple contributions and all those postage stamps and PayPal transactions:
 
And he's turned his appeal into a sort of game where he keeps readers updated on how close he is to reaching his goal. 
"Whenever someone gives me money, I post a note saying that," he said. They're accompanied by little photos of dollar bills and headlines like "In an envelope with no address: $60" and "In the final stretch: another $100." 
"One of my readers said I should start posting those."
Those seeds he's planting lead to more contributions. "It's like one of those telethons where they have a running total and say 'Here's how much we've raised…'"
 
Keep Milking the Cow That's in the Barn 
Hopkins says offering recurring payment is important because online marketers must make it as easy as possible for people to part with their money.
  
"The more obstacles there are for people to give you money, the less likely they are to do it. Obstacles can be something as small as having to click on a couple of links. You have to give them as many ways to donate as possible."
Indeed. The nonprofit fund-raising arm of Wikipedia gives visitors to its website 9 ways that people can donate to the Wikimedia Foundation.
Hopkins offers space in the banner ad at the top of the blog for $150 a month. But so far, no takers.
"I thought there would be interest from financial advisors who handle retirements and rollovers, and from labor attorneys because lots of (Gannett) people think they're victims of age discrimination. "
Advertisers might want to look twice at his blog's monthly stats:
From 10,000 to 15,000 visitors.
225,000 to 250,000 page views.
About 100 posts.
Last year alone, the blog received 28,000 comments.
These days, the 54-year-old San Francisco resident spends from 25-30 hours a week blogging and says "it's as much a hobby as it is a source of income."
When I asked him how he'd respond to blogging purists who disdain any type of promotion at blogs, especially blatant requests for money, Hopkins said:  "I don't have any problem with it for the simple reason that  I offer a quality product and it's entirely  reasonable to expect people to pay for it. I make it entirely voluntary. There's nothing wrong with asking. If you ask, some people will give."
He also said the running tally shows his audience—mostly current and former journalists—the challenge of being an online publisher in 2012. "They can see what economic survival is all about."
 
Make Your Own Blog Go "Kaching!"
Hopkins' request for donations will be one of 27 ideas I'm sharing on Saturday during the webinar "27 Ways to Monetize Your Blog" from 11 a.m. to 12:15 p.m. Eastern Time. If the time is inconvenient, sign up anyway because you'll get the link for the video replay within 72 hours.
Would you be so bold as to do what Hopkins does by asking for donations? Do you monetize your blog? What ideas have worked best for you? If you don't monetize it, why not?