If you're like me and dread the thought of creating a banner for trade shows, don't it put it off any longer. There are many ways you can use that valuable marketing and publicity tool beyond the shows.
But first, let me tell you how I made mine and the three mistakes you might not notice.  🙁 
I created the one you see here when I was invited to speak at the Tax Resolution Marketing and Technology Extravaganza Jan. 6-8 in Orlando, sponsored by tax resolution experts Michael "The Rozman" Rozbruch and Lawrence Lawler of the The American Society of Tax Problem Solvers. I'm speaking on Friday afternoon on how CPAs, lawyers and enrolled agents can get free publicity.
Because they're giving me a vendor table at the event, I needed a banner. Creating it was a lot easier than I thought. Here's how I did it and who I used to help me.
Get Publicity Photos Taken
When I attended the Author U Extravaganza in Denver this past spring, sponsored by book shepherd Judith Briles, I booked a photo session with award-winning author photographer Ashlee Bratton.
I love her photos, and she spent almost an hour taking about 40 shots. I chose the one that had a heavy emphasis on print media because many of the tax resolution experts in my audience will be going after local publicity in their daily and weekly newspapers, business journals and industry magazines. 
Mistake Number 1: Because I don't attend trade shows as a vendor, I didn't plan to use the banner for more than that one show. That was dumb. Print newspapers and magazines might be in the graveyard within a decade. I should have used a photo that included a tablet and mobile phone.
Mistake Number 2: The photo shoot was done at a busy, crowded conference at a hotel. I thought it would be a huge hassle to hire a hair and make-up artist like I usually do when having my marketing photos taken. So I didn't bother. That was a mistake. On that giant banner, and on several other photos taken, my hair looks messy.    
Hire a Graphic Designer
This part was easy.
I use Chris Brzinski of Militant Design.com in Milwaukee. I like the fact he's local, although where he's located has never been an issue. It's more important to work with only one designer who is familiar with your website, branding, color scheme, etc. Chris has done about a dozen design projects for me. 
I had a good idea of what I wanted but needed to  make sure that people didn't mistake me for a publicist. The three lines below the photo explain what I do. The value statement at the top, under the logo, explains what will happen if they work with me. 
Chris gave me three designs from which to choose. I picked my favorite and asked him to make a few tweaks.
Mistake Number 3: If I had it to over again, I would have added one important element to the banner: my phone number at the bottom. I'm a stickler for putting your photo number on every page of your website. A trade show banner is no different.   
Choose a Banner Company
Again, I wanted a local vendor so I could visit their store if needed and ask questions. I chose Fast Signs in Milwaukee and was thrilled with their customer service. They were patient and answered all my questions the four times I called.
The banner, 83.25 inches by 23.5 inches, comes with a pop-up stand and handy carrying case. It cost $209.09 including tax. 
I got a narrower banner so I could fit it inside a large suitcase I'll check at the airport, leaving me free carry on my Targus computer bag.  
Other Ways to Use Trade Show Banners
Here are my ideas on other ways to use that banner.
I can take it with me and use it on the stage at speaking engagements.
I'll use it when I speak informally at MeetUp groups here in Milwaukee and out of town.
Authors, this banner wold be perfect to take to a book signing.
Share it with readers of your blog like I'm doing here.
Publish a photo in your email newsletter.
Can the image be used in a paid ad? If it isn't perfect for the ad, perhaps you can tweak the original image.
Share it on Facebook. 
Pin it on Pinterest. 
In other printed marketing materials like brochures and flyers.

Use Social Media to Get More Trade Show Visitors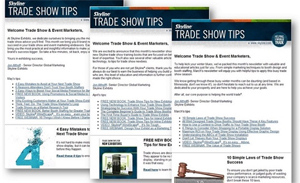 You'll love the free ebook I stumbled across from the folks at Skyline Exhibits in St. Paul, Minn.
It's chock full of helpful tips for "Using Promotions & Social Media to Get More Trade Show Visitors."  You'll learn how to build the buzz on social media before the show begins, attract visitors to your booth during the show, keep them engaged and stay in touch long after the event.
So many of these freebies are little more than free commercials. Not this one. You'll find more than 30 articles. Opt-in here with your email address and company info.
Do you have a banner? Show us! Link to it below and explain how you've used it.